Alaska Bald Eagle Photography Workshop
Come join me on an amazing adventure to Haines, Alaska to witness and photograph one of the largest gatherings of the American Bald Eagle on the planet. Every November, thousands of bald eagles descend upon the Chilkat Bald Eagle Preserve in anticipation of the final salmon run in the region. If you have been hoping to get incredible photographs of bald eagles flying, fighting, fishing, feeding, and perched along a riverbank, this is absolutely the photography workshop for you!
November 10th – 15th, 2022
Alaska Bald Eagle Photography Workshop
To join this workshop you will start your adventure by booking a flight on any major airline carrier to the town of Juneau, Alaska.
From there you will take the passenger ferry from Juneau up to the town of Haines, Alaska where I will meet you at the dock.
We have rented our own private house for the duration of the workshop, which allows us to stay safe and keep our distance from other travelers and photographers.
We will have a full kitchen, so cooking our own meal is an option for those interested in having more control over their meals.
Each day we will spend the bulk of the daylight hours out exploring the Chilkat Bald Eagle Preserve looking for Bald Eagles in action.
The Chilkat Bald Eagle Preserve covers 48,000 acres of land that include the Tsirku, Kleheni and Chilkat Rivers and has been in existence since 1982.
At night, if we have clear skies, there can be opportunities to photograph the aurora if presented with the right conditions.
Also, be sure to bring your laptop so that we can dive into the post-processing side of wildlife photography when we have some downtime from our daily activities.
There is a lot to see and experience in this magical region of Alaska.
The group size is limited to only 6 people, so If interested, please sign up today for this amazing Photography Workshop in November!.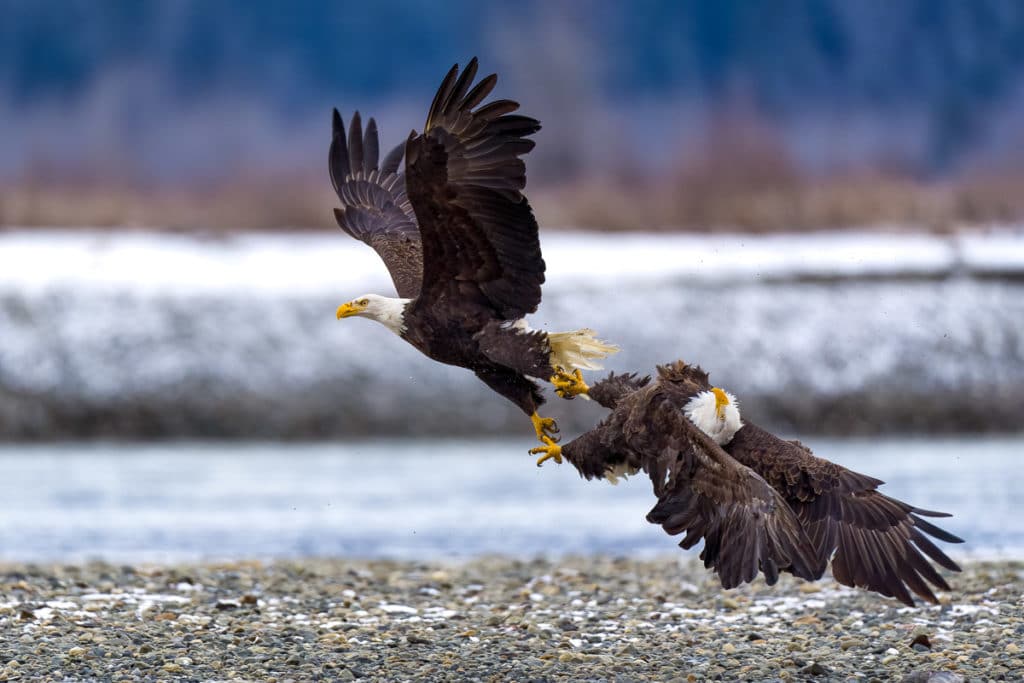 Payment for Alaska Bald Eagle Photography Workshop
If the workshop is full and you wanted to be added to the waiting list, click HERE.
* please read the workshop F.A.Q. section on this page to learn more about visiting Alaska and check out our cancellation policies if you have any questions.
While our main focus will be photography bald eagles along the Chilkat River there is a chance we could encounter other wildlife out in the area as well. It is possible to photograph bears, foxes, mink, coyotes, and moose. In terms of other birdlife, we could see downy and hairy woodpeckers, trumpeter swans, magpies, loons, and a variety of different gulls. However, most of these wildlife encounters will be based on chance as we look for as many bald eagle photographic opportunities as possible.
Where in Alaska Are We Going?
What Is In Colby's Gear Bag For This Trip?
Cameras
Lenses
Camera Bag
Tripod/Gimbal Head
Join the Workshop Waitlist to learn more about any upcoming adventures...
Join the Workshop Waitlist to learn more about any upcoming adventures...
Frequently Asked Questions (F.A.Q)
For the Alaska Bald Eagle Photography Workshop
WHEN DOES THE WORKSHOP START?
The workshop begins on November 10th in Haines, AK when the Ferry from Juneau (4:15am departure) arrives at 8:45AM into Haines, AK. I will pick everyone up at the Ferry Dock.
WHEN DOES THE WORKSHOP END?
The workshop ends on November 15th, 2022 when the Ferry from Haines leaves at 4:30pm and arrives into Juneau at 8:45pm. I will be on this ferry crossing with everyone, so I can drop you off at the airport or your hotel if you are staying one more night before flying back home.
WHAT AIRPORT DO I FLY IN & OUT OF?
You will fly in and out of the Juneau International Airport (JNU). You will want to arrive in Juneau the day before the workshop starts so that you can catch the ferry to Haines the following day.
DO I HAVE TO CATCH THE FERRY TO HAINES?
Yes, you will need to purchase your own ferry tickets from Juneau to Haines and back again. To do this you will purchase your ferry tickets via the Alaska Marine Highway System website HERE.
ARE COVID-19 VACCINES REQUIRED?
No, Colby Brown Photography doesn't mandates that you have had a COVID-19 vaccine to join this workshop. If local or federal guidance changes, we will adjust out COVID-19 policy for this workshop to help keep everyone safe and healthy throughout the trip.
WHAT ARE OUR ACCOMMODATIONS LIKE?
We have rented a private 4 bedroom, 4 bathroom house in Haines, AK for the duration of our workshop. Each room will have it's own private bathroom and we will have access to a full kitchen to make our own meals when necessary.
WHERE WILL WE BE FOCUSING OUR ATTENTION?
Outside of exploring the area around Haines, AK the majority of our time will be focused on the Chilkat Bald Eagle Preserve located 20-30 minutes outside of town.
WHAT CAMERA GEAR IS NECESSARY?
With the focus on wildlife photography, you will want to have a camera that is capable of shooting at high FPS (Frames Per Second). Additionally, using super-telephoto lenses will allow you to fill more of the frame with your subjects. Refer to the "Gear" section above on this page for more information.
HOW DIFFICULT IS THE WORKSHOP?
This workshop is not overly challenging in terms of physical activity involved. Most of the time we will drive our vehicles up to the Bald Eagle Preserve to photograph these amazing creatures along the banks of the Chilkat River.
WHAT HEALTH & SAFETY MEASURE WILL BE IN PLACE ?
My goal is to have each of my clients feel safe, healthy and comfortable throughout the workshop. As local, state and federal guidance for dealing with COVID-19 changes, we will adjust things on our end.
Meet Your Instructors & Guides Colby Brown
Owner/Photographer/Author
Colby Brown is a photographer, photo educator and author based out of Eastern Pennsylvania. Specializing in landscape, travel and humanitarian photography, his photographic portfolio spans the four corners of the globe and all 7 continents. Not too long after picking up his first digital camera in 2006, Colby was leading workshops for National Geographic in South America, further spurring his love for both travel and photo education. In 2011, he founded The Giving Lens, an organization that blends photo education with support for various non-governmental organizations (NGO) and causes around the world, such as child education, clean drinking water projects, and women's rights.
Amazing Eagle Photography in Alaska!!
I enjoyed every moment of the eagle workshop in Alaska with Colby. We saw more bald eagles than I could count every day and had plenty of opportunities for taking good photos close into the action. The surroundings were stunningly beautiful with snowy peaks visible in every direction. It was a fantastic (...)
Chilkat Eagle Preserve Workshop Experience
Colby,
I wanted to let you know how much I enjoyed the trip to Alaska to photograph the eagles. The accommodations and everything else were fantastic. More importantly, the eagles couldn't have been better. Steve and I enjoyed our time with you and thanks again for a fantastic trip.
Jim
Alaskan Eagle Workshop
This is my third photo workshop with Colby and on each trip there was so much fun and learning that I keep coming back to his workshops!
Colby has a deep knowledge of the places, he took us to the best sites for the best light, he was always available to help in the fields. He also teaches us (...)
Other Workshops Worth Checking Out!
October 12th - 24th, 2022

Namibia is home to some of the most incredible desert landscapes and wildlife on the planet. From the great sand dunes of Sossusvlei to the remote Himba tribes of Northern Namibia to the amazing mixture of wildlife found in the country, Namibia is a photographers paradise. Here you will find large populations of cheetahs, lions, rhino, elephants, buffalo and much more!
Cancellation & Refund Policy
No one wants to miss out on a trip of a life time…but things do happen. In those situations, the following applies…
The first thing to note is that deposits are not refundable, but they are transferable.  In addition, all cancellations are subject to a minimum of a $150 service charge to cover PayPal transaction fees. In most situations, we ask for the remaining balance of a workshop is to be paid 120 days from the start of the workshop in question. If you wish to cancel within 120 days from the start of a workshop and we find someone to fill your spot, you would be entitled to receive a refund (minus your deposit and the $150 processing fee) or transfer to another workshop with no penalties or fees.
If we don't find someone to fill your spot, what does your refund window actually look like?