Namibia Photography Workshop
Namibia Photography Workshop
Come join me on an incredible Namibia Photography Workshop Adventure to one of the most amazing countries in Africa! Known for its amazing diversity in culture, landscapes, and wildlife, it shouldn't be a surprise that Namibia has skyrocketed to the top of many travel and wildlife photographer's bucket lists in recent years. As a primarily desert landscape, Namibia offers a wide variety of wildlife viewing opportunities that differ from much of what you typically see in places such as Tanzania, Kenya, and Botswana. From the massive Sand Dunes of Sossusvlei to the amazing Himba tribes of Opuwo to the desert landscapes teeming with wildlife in places like Etosha National Park, Namibia is truly a photographers paradise.
October 12th – 24th,  2022
Namibia Photography Workshop
When it comes to African countries to visit and explore, Namibia is a hidden gem that has been growing and expanding fast over the last few years. As new infrastructure continues to try to meet Namibia's growing demand of new travelers, there are plenty of amazing locations worth visiting where you don't yet see huge crowds of tourists and photographers.
This Namibia Photography Workshop starts in the capital city of Windhoek, Namibia on October 14th before heading out to the amazing sand dunes of both Sossusvlei and Deadvlie the following day. Spending the night inside the National Park entrances gives us the opportunity to not only shoot sunset and astrophotography on our first night but also head out to Deadvlie in the morning for sunrise, while other photographers and tourists have to wait at the gate for the sun to rise. From there we head to Erindi Private Game reserve for a few days of private game drives looking for Cheetahs, Lions, Rhinos, Elephants and much more. After that, we head to the Cheetah Conservation Fund to learn more about these impressive cats. This is followed by two days up near Opuwo where we will interact with and photograph Himba villages while also bringing much-needed supplies and resources with us to donate. Wrapping up this amazing workshop, we head to Etosha National Park for a few more days to focus on wildlife photography before returning to Windhoek to drop everyone off at the airport.
Namibia Photography Workshop
With two photo instructors present for the duration of the workshop, you will have plenty of opportunity for one on one instruction to further the skills that you feel you need to work on. If the workshop is full and you wanted to be added to the waiting list, click HERE.
***This trip is SOLD OUT, please sign up for the waiting list via the link above if you are interested in joining this trip or our 2023 Namibian Adventure…


* please read the workshop F.A.Q. section on this page to learn more about visiting Namibia and check out our cancellation policies if you have any questions.
Areas to Explore
Namibia Photography Workshop
Join the Workshop Waitlist to learn more about any upcoming adventures...
Join the Workshop Waitlist to learn more about any upcoming adventures...
WHY TAKE A PHOTOGRAPHY WORKSHOP WITH US?
A GREAT question! As a professional wildlife, landscape, and travel photographer for the last 15 years, I have been very fortunate to have worked all over the globe, documenting various aspects of this beautiful planet that we live on. I have extensive experience shooting in nearly every climate you can imagine and even some you can't 🙂 On top of this, I absolutely love teaching. I have worked for National Geographic as a photography instructor in South America and currently, I average around 10-15 workshops year after year. I am a firm believer in the organic approach I take to teaching photography, which involves a mixture of technical, philosophical, and hands-on learning that gives you the best opportunity for not only furthering your photography skills but retaining that information as you progress as an artist well after our time together has ended.
WHEN DOES THE WORKSHOP START?
The Namibia Photo Workshop starts early in the morning on October 12th, 2022. This is an arrival day so you can arrive at any point that works best for your schedule. That being said, we will have a welcome dinner that night, so if you wish to participate in that, you will need to arrive earlier in the day. You will also need to organize your own transport to meet us at the Safari Hotel B&B as all guests will be arriving at different times throughout the day. There are plenty of taxi's with English speaking drivers at the Windhoek Airport.
WHEN DOES THE WORKSHOP END?
The Namibia Photo Workshop ends in Windhoek, Namibia on October 24th, 2022. You can look for a flight out in the early evening for your return flight home. Please confirm all flights with us before you make any purchases.
WHAT AIRPORT DO I FLY IN & OUT OF?
You will fly into the Hosea Kutako International Airport (WDH) in the capital city of Windhoek, Namibia.
DO YOU NEED A VISA TO ENTER NAMIBIA?
Please check with your local Embassy or Government Website to check to see if your nationality requires a VISA to enter Namibia. For US citizens, a VISA is granted to you when you arrive at the Windhoek airport on entry into the country.
HOW MUCH DRIVING WILL WE BE DOING?
One of the challenging aspects of traveling to Namibia is the fact that it is a pretty big country, often times with good distances between major destinations. While we will try to limit the amount of time we see in a vehicle, we might find ourselves driving for up to 4hrs to get from location to location. That being said, we will provide enough brakes for everyone to stretch their legs and go the bathroom as needed.
WHAT KIND OF WILDLIFE WILL WE SEE?
While there is no guarantee, Namibia is home to the largest concentration of Cheetahs in the world, containing 1/3 of their total worldwide population. In addition, we have a good chance to see many lions, elephants, rhinos (white & black), waterbuck, gazelle, oryx, crocodile, wildebeest, springbuck, and much much more!
WHAT KIND OF GEAR SHOULD WE BRING?
With the focus on wildlife photography, I would make sure you bring a 100-400mm equivalent at the very least. A 24-70 will also help when the animals get closer but expect much of the wildlife to require a telephoto lens to properly capture them. If you have a 1.4 or 2x TC, both can be used in Namibia with great results. A proper gear list will be provided to all clients are deposits have been made.
WILL WE VISIT THE HIMBA TRIBES OF NAMIBIA?
Yes, the Himba are one of my favorite African tribes. We will spend a day and a half bringing supplies and visiting Himba villages in the North of Namibia. They are incredibly friendly, beautiful and photogenic. We are lucky to have the opportunity to learn more about their culture and ways of life!
WILL THERE BE COVID-19 RESTRICTIONS?
This workshop will abide by any and all local COVID-19 restrictions set in place via the Namibian government. However, we won't know what, if any, restrictions might be set in place for this workshop until we get closer to the start of this adventure. I recommend you check out the website for the Namibian Embassy in your home country for more information.
Meet Your Instructors & Guides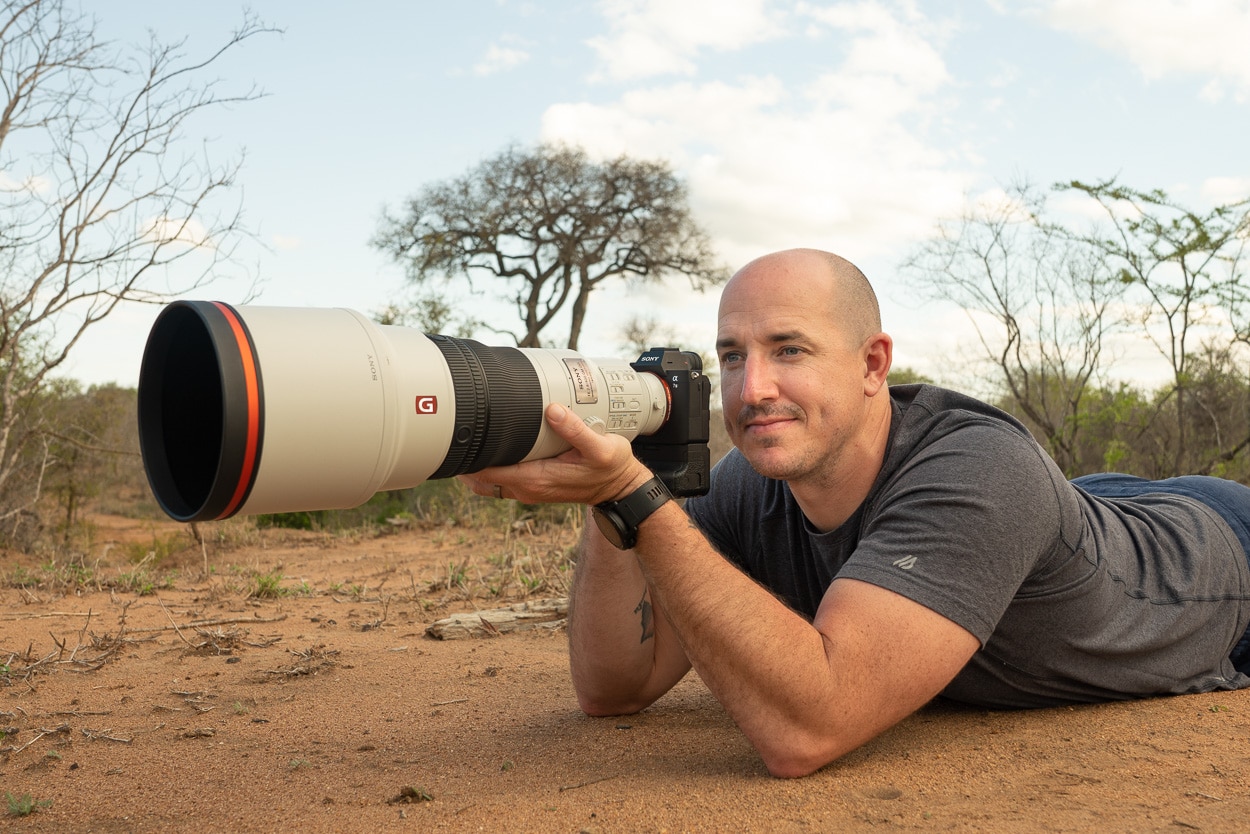 Colby Brown
Owner/Photographer/Author
Colby Brown is a photographer, photo educator and author based out of Eastern Pennsylvania. Specializing in wildlife, landscape and travel photography, his photographic portfolio spans the four corners of the globe and all 7 continents. Not too long after picking up his first digital camera in 2006, Colby was leading workshops for National Geographic in South America, further spurring his love for both travel and photo education. In 2011, he founded The Giving Lens, an organization that blends photo education with support for various non-governmental organizations (NGO) and causes around the world, such as child education, clean drinking water projects, and women's rights.
Other Workshops Worth Checking Out!
August 30th - Sept. 6th, 2023

The Pantanal region of Brazil is known as the land of the Jaguar. Nowhere else on Earth is there a higher concentration of these elusive big cats than this remote region of Southern Brazil, close to the Southern Amazon Basin. In addition to Jaguars, you will see Caimen, Capybara and a wide assortment of birds.
Cancellation & Refund Policy
No one wants to miss out on a trip of a life time…but things do happen. In those situations, the following applies…
The first thing to note is that deposits are not refundable, but they are transferable.  In addition, all cancellations are subject to a minimum of a $150 service charge to cover PayPal transaction fees. In most situations, we ask for the remaining balance of a workshop is to be paid 120 days from the start of the workshop in question. If you wish to cancel within 120 days from the start of a workshop and we find someone to fill your spot, you would be entitled to receive a refund (minus your deposit and the $150 processing fee) or transfer to another workshop with no penalties or fees.
If we don't find someone to fill your spot, what does your refund window actually look like?