Norway Photo Workshop Adventure
Norway Photo Workshop – Winter in The Lofoten Islands

Come join our incredible team on this Norway Photo Workshop Adventure that you will never forget! We will explore one of the most fantastic winter photography locations on the planet, Norway's own Lofoten Islands. Located above the arctic circle, these islands are home to some of the most spectacular seascapes in Europe. Additionally, because of its latitude, you have a greater chance to see the Northern Lights here than in most places on the planet. During our 7-day adventure, we will split our focus between the famous town of Reine and the mountainous beaches of Leknes. This will put your right at the heart of some of the most incredible photographic locations in the world!
February 24th – March 2nd, 2024
Norway Photo Workshop – Winter in The Lofoten Islands
Our photo adventure in the Lofoten Islands will base just outside the town of Leknes for the duration of our workshop. There are multiple daily flights from Oslo to the Leknes Airport (LKN), giving you plenty of options to choose from when it comes to getting to this incredible part of the world. We will be staying in a series of fully renovated Rorbuer cabins that come equipped with not only private bathrooms in each room (with heated floors), but a living room area and full kitchen. It is here that we will make our own meals each night, allowing all participants to not only choose what they wish to eat, but save a little money in the process (eating out in Norway is VERY expensive).
When we are not out chasing the northern lights at night, we will be exploring a series of incredible fjords, beaches, inlets, lakes and mountain scenes through the region that stems from Leknes to the town of Reine and beyond. In addition, we will spend time photographing a number of the gorgeous red and yellow cabins that line the fjords in this part of the world. The Lofoten Islands are a photographers paradise and I can't wait to show you why it is one of my favorite places to photograph in the winter.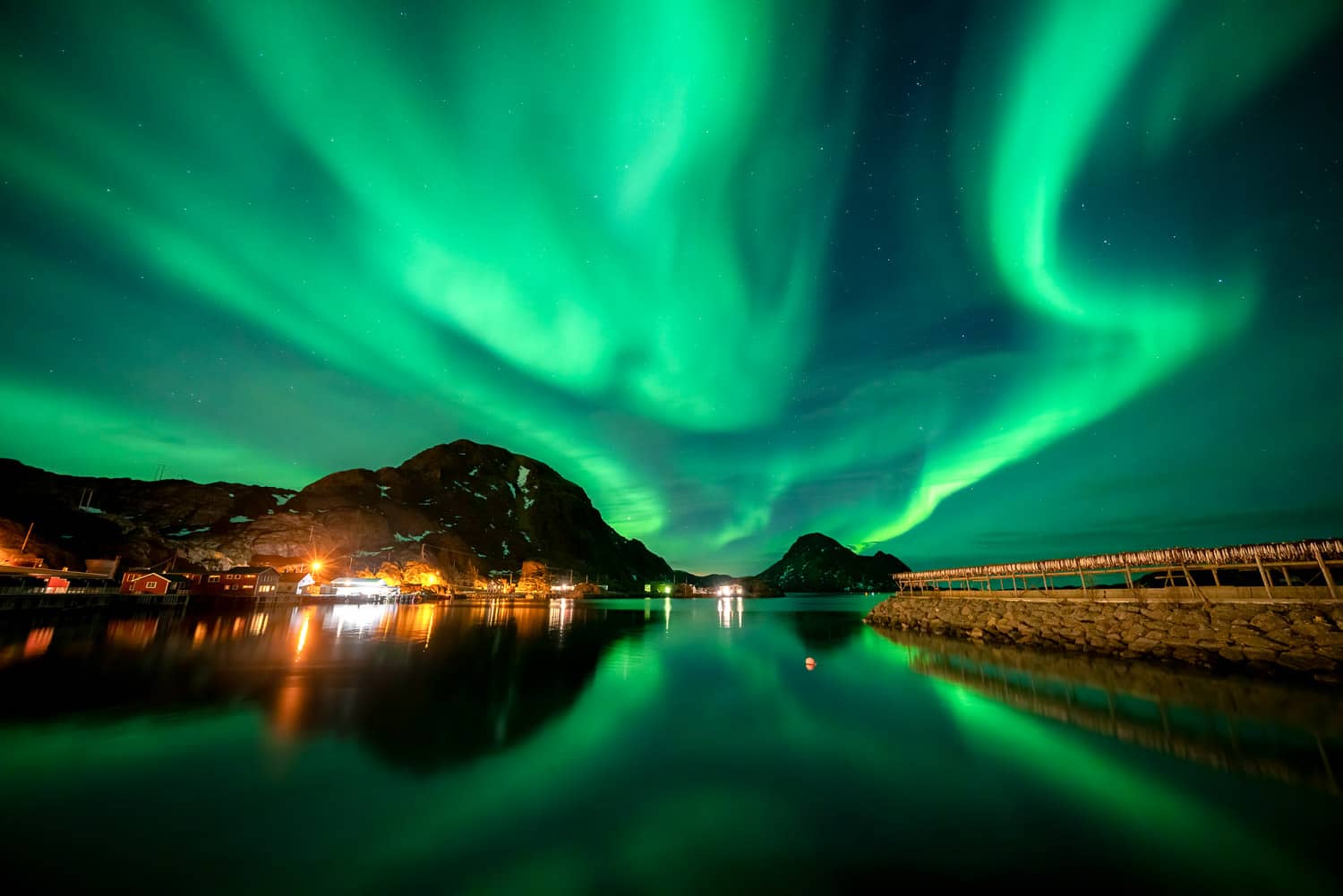 Norway Photo Workshop – Winter in The Lofoten Islands
With two photo instructors present for the duration of the workshop, you will have plenty of opportunity for one on one instruction to further the skills that you feel you need to work on. If the workshop is full and you want to be added to the waiting list, click HERE.

The Workshop tuition is based on shared rooms. If you would like your own private room, it will come with an additional cost due during the final payment for this workshop. See the F.A.Q section for more details
* please read the workshop F.A.Q. section on this page to learn more about visiting Norway and check out our cancellation policies if you have any questions.
All Workshop Deposits Are Transferable to
Other Workshops if Something Comes Up...
*See our Cancellation Policy for more info...
Areas to Explore
Norway Photo Workshop
Join the Workshop Waitlist to learn more about any upcoming adventures...
Join the Workshop Waitlist to learn more about any upcoming adventures...
WHY SHOULD I JOIN YOUR NORWAY WORKSHOP?
Absolutely! Although I might be a bit biased 😉 While there are a number of photography workshops being offered in places like the Lofoten Islands of Norway, none of them offer a similar experience. Not only have I been working as a photo workshop instructor for 16 years, which included time leading trips for National Geographic, but I have spent the last 7 years exploring the Northernmost parts of Norway, namely the Lofoten Islands and Senja. I work hard to make sure I meet each of my clients at their own level, providing ample 1 on 1 time while we are out in the field. This helps to make sure that you get everything possible out of this workshop experience!
WHEN DOES THE WORKSHOP START?
The workshop starts of February 24th, 2024 in Leknes, Norway where our team will pick you up at the airport when you arrive. If you prefer to arrive a day early, we can also pick you up from your hotel in the area the morning the workshop starts.
WHEN DOES THE WORKSHOP END?
The workshop ends on March 2nd, 2024 in Leknes, Norway, where our team will drop you off at the airport after a final sunrise shoot. Look for a flight to leave Leknes after 12 (Noon) to make sure we have enough time to get you to the airport for your flight.
WHAT AIRPORT DO I FLY INTO?
You will fly into the Leknes Airport (LKN) located above the Arctic Circle in Northern Norway. You must first fly to Oslo (OSL) and then purchase a domestic flight using SAS Airlines to get to Leknes.
WHAT TEMPERATURES SHOULD WE EXPECT?
While the Lofoten Islands are located above the Arctic Circle, the temperatures found here are fairly nominal when compared to Winter in many other locations around the globe. You can expect it to usually hover around 32 degrees Farenheit or 0 degrees Celcius on average. However, at night, the temperature can dip just below freezing. All in all, it isn't nearly as cold in the Lofoten Islands as many people expect.
WHAT ARE OUR ACCOMMODATIONS LIKE?
Our home base will be a number of incredibly comfortable and picturesque red cabins, located 15 minutes south of the city of Leknes.  This will be our basecamp for the duration of the trip, allowing you to completely unpack your bags and get comfortable in your new cabins. Each room in the cabins will have its own private bathrooms with heated floors along with a shared living and kitchen area.
HOW DO MEALS WORK?
The cabins we stay in have full kitchens, giving us the ability to make our own meals. This way we are not tied to any sort of meal schedule or timing of any of the local restaurants in Leknes. Every two or three days we will stop by the local grocery store and stock up on items for breakfast, lunch, and dinner. These stores have everything you would find at your local large grocery store in North America or other parts of Europe.
WILL WE SEE THE AURORA?
The Lofoten Islands are one of my favorite places in the world to witness and photograph the Northern Lights. We will be so far North, that even low aurora activity is often visible given the right conditions. However, for a truly magical experience, we will want clear skies, cold temperatures, and significant solar flare activity coming off the sun. None of this is guaranteed but is highly likely this time of year.
WHAT GEAR SHOULD I BRING?
While in the Lofoten Islands, our main focus will be a mixture of landscape/seascape scenes along with photographing the northern lights whenever possible. You will want a camera that has full manual controls of your ISO, Shutterspeed and ISO and a fast wide-angle lens. In my gear bag you will find the following gear:
Sony a1
Sony 14mm f/1.8 GM
Sony 12-24 f/2.8 GM or 16-35 f/2.8 GM
Sony 24-105 f/4
Sony 70-200 f/2.8 II (Optional)
Additionally, you will want to bring some filters such as a polarizing filter and microspikes to help you easily walk around on snow and ice.
WHAT COVID RESTRICTIONS WILL WE HAVE?
The truth is that we don't know just yet. As we get closer and closer to the workshop dates, we will have a better picture of what entry requirements we will have as well as what COVID restrictions or pre-cautions we will have to take into account.
Meet Your Instructors & Guides Pedro Kin
Workshop Manager/Photo Instructor
Pedro is a Portuguese landscape photographer based in Slovakia but you'll often find him in the most scenic mountains, forests, and fjords of Europe. He has held the title of Workshop Manager and photo instructor with Colby Brown Photography for the past 5 years. Favoring the cold landscapes and the unspoiled nature of northern Europe, the higher latitudes do not stop him from going after the perfect shot. When not traveling the world with his camera, you can find him back home teaching workshops, testing new gear, and experimenting with photography.
Stan Moniz
Photographer/Film Maker/Photo Instructor
Born and raised in Oahu, Hawaii, Stan was a child of the ocean. His passion for the surf led him to a career as a professional bodyboarder which transitioned him into the creative space of capturing the adventure of the outdoors and the beautiful moving water through photography and film.  Now living in Southern California since 2005, Stan acquired a deep love for the desert night sky. In the ocean and under the stars is his focus, making Stan a unique creative above and below the water.  Skills aside, Stan brings an infectious positive high energy which opened doors to work with major brands such as Sony, Patagonia, and WaveStorm surfboards. Stan is also a contributing writer and educator by heart, leading workshops that help spark the fire for photography and filmmaking.
Other Workshops Worth Checking Out!
March 27th - April 5th, 2024
April 8th - 17th, 2024

Patagonia is one of the most wild, beautiful & dramatic mountain ranges on the planet. We split our time between the incredible Torres del Paine National Park in Southern Chile and Los Glaciares National Park in Argentina, home to both Cerro Torre and Mt. Fitz Roy.
Cancellation & Refund Policy
No one wants to miss out on a trip of a life time…but things do happen. In those situations, the following applies…
The first thing to note is that deposits are not refundable, but they are transferable.  In addition, all cancellations are subject to a minimum of a $150 service charge to cover PayPal transaction fees. In most situations, we ask for the remaining balance of a workshop is to be paid 120 days from the start of the workshop in question. If you wish to cancel within 120 days from the start of a workshop and we find someone to fill your spot, you would be entitled to receive a refund (minus your deposit and the $150 processing fee) or transfer to another workshop with no penalties or fees.
If we don't find someone to fill your spot, what does your refund window actually look like?