Patagonia Photography Workshop Adventure
Come join us on this incredible Patagonia photography workshop adventure down in this wild and beautiful region of South America. Set in the heart of the Andean mountain range in southern Chile & Argentina during fall colors, you will get to experience first hand the geologic wonder of both Torres del Paine National Park and Los Glaciares National Park. It is here you will photograph incredible locations such as Lago Pahoe at the base of the Cuernos del Paine, the dream-like reflections of Laguna Amarga, the calving ice of the Perito Moreno Glacier, the spires of Cerro Torre and the crown of Argentina, Mt. Fitz Roy…to name a few. We have been running tours down here in Patagonia for close to a decade, giving our leaders substantially more experience on the ground than nearly any other workshops in the region. This is the bucket list of all bucket list locations for landscape and outdoor adventure photographers.
March 27th – April 5th, 2024 
April 8th – 17th, 2024

Patagonia Photography Workshop Adventure
Patagonia is one of the most sought after destinations for outdoor and landscape photographers worldwide. Its breathtaking vistas, incredible mountains, glacier feed lakes and unique wildlife help make it so special. On this trip of a lifetime, we will spend time in both the Chilean and Argentinian regions of Patagonia. Torres del Paine and Los Glaciares National Parks will become our new temporary homes throughout the course of this workshop. Because we will be jumping across the border between Chile and Argentina, you will need to make sure you secure visas before you arrive, if a visa is required based on the passport you currently carry.
In addition to staying in comfortable hotels with breathtaking views, this adventure focused photography tour will take you beyond what most photographers offer in Patagonia. Instead of simply driving you from distant view-point to distant viewpoint, we will offer optional sunrise hikes around some of the most incredibly scenic areas in the world, focusing our efforts around Mt. Fitz Roy and Cerro Torre in Argentina. For more info about the hikes, check out the F.A.Q. section at the bottom of this page. This will provide you with a solid mix of photographic opportunities throughout our time in Patagonia. When the weather is less forgiving, we will spend time focusing on post-processing and image editing using a variety of different applications. The bottom line is that we will help you get to the best locations at the best time of day with the best light possible.
Patagonia Photography Workshop Adventure
With two photo instructors present for the duration of the workshop, you will have plenty of opportunity for one on one instruction to further the skills that you feel you need to work on. If the workshop is full and you wanted to be added to the waiting list, click HERE.
Even though these two workshops are SOLD OUT, in 2024 we are offering a special third adventure that focuses purely on the Argentinian side with Cerro Torre & Mt. Fitz Roy. More info can be found HERE
* please read the workshop F.A.Q. section on this page to learn more about visiting Patagonia.
All Workshop Deposits Are Transferable to
Other Workshops if Something Comes Up...
*See our Cancellation Policy for more info...
Areas to Explore
Patagonia Photography Workshop Adventure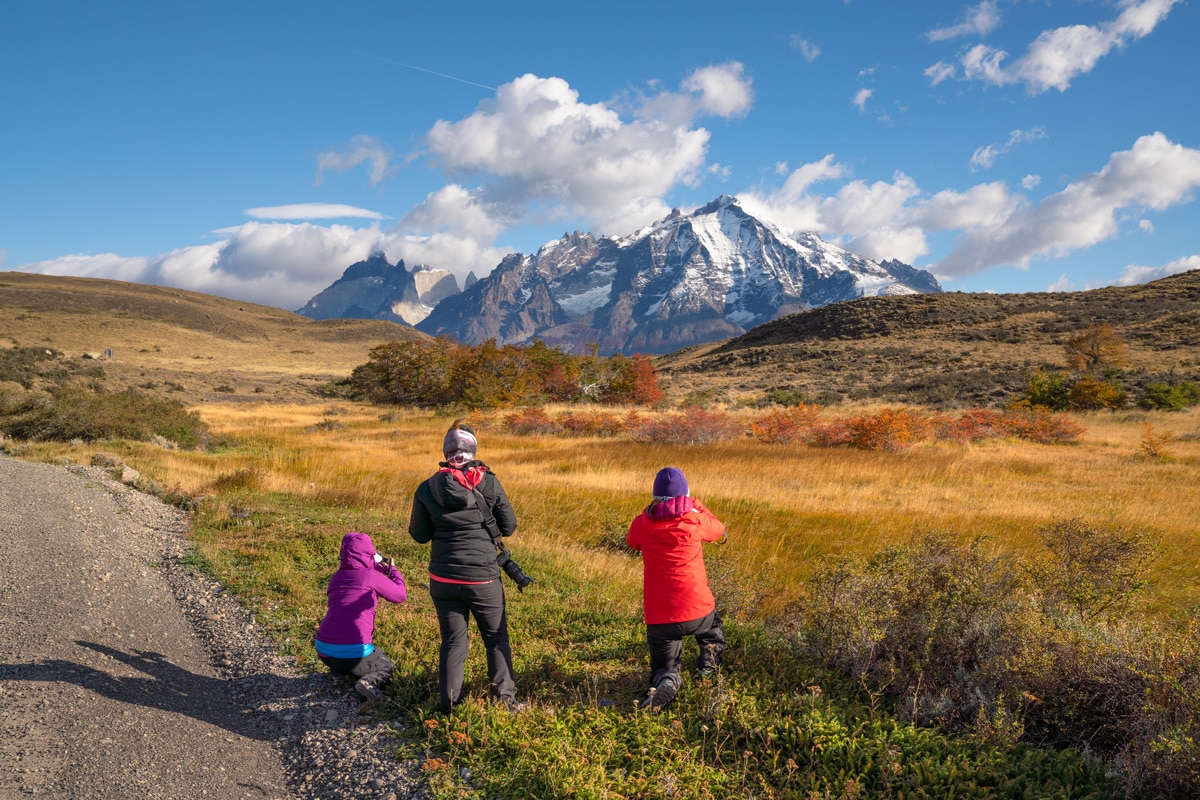 Join the Workshop Waitlist to learn more about any upcoming adventures...
Join the Workshop Waitlist to learn more about any upcoming adventures...
WHY SHOULD I JOIN YOUR PATAGONIA WORKSHOP?
Absolutely! Although I might be a bit biased 😉 While there are a number of photography workshops being offered in places like Patagonia, none of them offer a similar experience. Not only have I been working as a photo workshop instructor for 18 years, which included time leading trips for National Geographic, but I have spent over 10 years exploring the Southern Patagonian region of South America. I work hard to make sure I meet each of my clients at their own level, providing ample 1 on 1 time while we are out in the field. This helps to make sure that you get everything possible out of this workshop experience!
WORKSHOP DETAILS GROUP 1 (March 27th - April 5th, 2024)
This 1st workshop of the season starts on March 27th, 2024 at 7am El Calafate, Argentina (FTE airport code). You most likely will want to arrive a day early to help you deal with any jetlag from your travels. On April 5th, 2024, the workshop ends by 2pm in Puerto Natales, Chile (PNT Airport code). If you find better return flights out of Punta Arenas, Chile (PUQ airport code). We can help arrange a private transfer for you and any other clients that prefer to fly out of Punta Arenas.
You will fly in and fly out of different airports between Chile & Argentina for this workshop.
WORKSHOP DETAILS GROUP 2 (April 8th - 17th, 2024)
This 2nd workshop of the season starts on April 8th, 2024 at 10am in Puerto Natales, Chile (PNT airport code). To get there from Santiago, Chile you will want to look at flights from Sky Airlines. You might find alternative flights to Punta Arenas, Chile (PUQ airport code), but flying in there would require an additional shuttle option to Puerto Natales that we can help you arrange. You most likely will want to arrive a day early to help you deal with any jetlag from your travels. On April 17th, 2024, the workshop ends at 3pm in in El Calafate, Argentina (FTE airport code).
You will fly in and fly out of different airports between Chile & Argentina for this workshop.
DO YOU NEED A VISA TO ENTER CHILE OR ARGENTINA?
Depending on which country you are from, you might need VISAS to enter either Chile or Argentina or both. While we start in one country, we will cross over into the other via a land border, so please make sure you have your VISAS sorted out well in advance of the workshop!
WHAT ABOUT BRINGING CASH OR CREDIT CARDS?
When it comes to spending money down in Chile & Argentina, you mostly just have to worry about lunches, dinners, gifts, and tips for local guides.
In Chile, you can use a CC just about anywhere, but you will need some cash for tips for our guide around Torres del Paine National Park. I recommend $10 – $20 a day per person and you can pay in USD.
For Argentina, it is a little more complicated because of the state of the Argentine Peso. You can use a CC in many (but not all restaurants), but if you bring $100 USD bills, you will get a MUCH better exchange rate than you will with your CC (at times it can be almost twice as good). Additionally, you will have a local guide around Los Glaciares Naitonal Park, so the same $10 to $20 recommended tip rate applies here as well.
Reach out if you have any other questions about this…
DO YOU OFFER WORKSHOP EXTENTIONS?
There is a possibiliy that we might offer an extension to both Bolivia and Easter Island before the first workshop and after the 2nd. To learn more about costs and ask questions about these workshops, please send us an EMAIL.
WHAT KIND OF WILDLIFE WILL WE SEE?
While this trip is mostly focused on landscape photography, we should have a wide variety of wildlife photographic opportunities that could include; Guanaco, Patagonian Fox, Andean Condor, Caracara, Rhea, and possibly Puma (specifically in Torres del Paine National Park.
WHAT CAN I EXPECT IN TERMS OF THE WEATHER?
Patagonia is known to have some of the most fierce weather in the world. It is not uncommon to experience 80-100 mph winds on a trip to this region of the world. In addition, Patagonia is home to a massive number of glaciers, which help create their own weather systems. While this combination can make for some challenging situations, it is also why this region of the world is so popular with photographers. Dramatic weather means dramatic light which can provide incredible photographic opportunities along the way.
HOW DIFFICULT ARE THE HIKES ON THIS WORKSHOP?
In Torres del Paine, the hikes we go on are very easy with gentle grades. In Argentina, once we get to El Chalten, the hikes do get a little more challenging. Every morning (weather permitting) we will do optional sunrise hikes up to the best viewing points for either Mt. Fitz Roy or Cerro Torre. These can vary in length from 5k to 9k each way, with some elevation gain. We leave early in the morning, giving our group plenty of time to not be in a rush up the trails. We work together as a group, making sure everyone makes it up to the best possible views. While these hikes are not easy, they are not overly difficult either. Being optional, you are free to partake in each morning's hike, just 1 or anything in between.
For more information about the hikes, check out the following links…
Los Glaciares National Park
Laguna Capri (Views of Mt. Fitz Roy)
Mirador de Cerro Torre (First views of Cerro Torre) 
Laguna Torre (Best Views of Cerro Torre)
Torres del Paine National Park
Condor Lookout (Easy day hike near our hotel)
Cuernos Lookout (Closer views of the Paine Massif)
HOW MUCH DOES A SINGLE SUPPLEMENT ROOM COST?
The workshop tuition listed above is based on double occupancy (shared rooms). If there is availability for a single room for the workshop, the cost is $1200 USD extra. This is a first come first serve basis and is based on room availability at our hotels in both Chile & Argentina.
WHAT CAMERA GEAR SHOULD I BRING?
With a focus on landscape photography, you will want the lens mm length equivalent from 16- 200mm. This can include a 16-35 for wide-angle landscapes, a 24-70 (0r 24-105) as a walk-around lens, and a 70-200 to allow you to zoom in on distant mountains for some more intimate scenes. If you are also interested in wildlife photography, you might want to bring something like a 100-400 or 200-600 to help you fill much more of your frame with your subject.
In Colby's gear bag you will find the following…
Sony a1 (2)
Sony 14mm f/1.8 (For Astro)
Sony 16-35 f/2.8 GM (For Landscapes)
Sony 24-105 f/4 (All-Around)
Sony 100-400 f/4.5-5.6 GM or 200-600 f/5.6-6.3 G (For Wildlife)
Please make sure that you bring a sturdy tripod! Please don't bring the Peak Design tripod, as they tend to fail in environments like this more than any other tripod we see on our workshops.
WHAT HAPPENS IF CHILE OR ARGENTINA CLOSE THEIR BORDERS?
If either Chile or Argentina decides to close their borders, rendering this workshop impossible to run on the dates we have listed, the workshop will be postponed to other dates that have yet to be determined. The bottom line is that you won't lose your deposits or your tuition fees.
Meet Your Instructors & Guides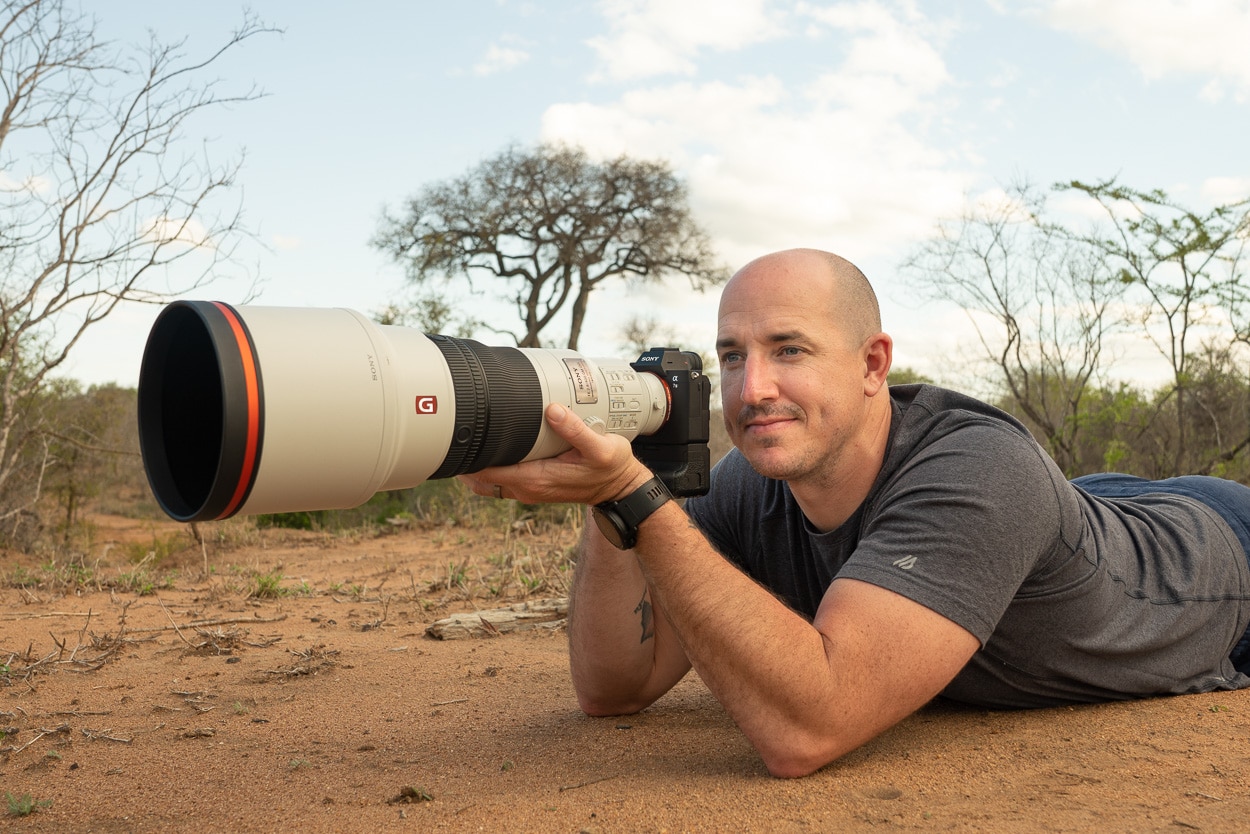 Colby Brown
Owner/Photographer/Author
Colby Brown is a photographer, photo educator and author based out of Eastern Pennsylvania. Specializing in landscape, travel and humanitarian photography, his photographic portfolio spans the four corners of the globe and all 7 continents. Not too long after picking up his first digital camera in 2006, Colby was leading workshops for National Geographic in South America, further spurring his love for both travel and photo education. In 2011, he founded The Giving Lens, an organization that blends photo education with support for various non-governmental organizations (NGO) and causes around the world, such as child education, clean drinking water projects, and women's rights. Pedro Kin
Workshop Manager/Photo Instructor
Pedro is a Portuguese landscape photographer based in Slovakia but you'll often find him in the most scenic mountains, forests, and fjords of Europe. Favoring the cold landscapes and the unspoiled nature of northern Europe, the higher latitudes do not stop him from going after the perfect shot. When not traveling the world with his camera, you can find him back home teaching workshops, testing new gear and experimenting with photography.
Other Workshops Worth Checking Out!
July 16th - 23rd, 2023

Join me next Summer as we explore one of the most remote and wild landscapes destinations left on the planet, the Faroe Islands. Between the incredible mountains, seascapes, waterfalls and hiking paths, now is the time to visit this amazing destination before it gets too popular like it's cousins Iceland & Norway.
Cancellation & Refund Policy
No one wants to miss out on a trip of a life time…but things do happen. In those situations, the following applies…
The first thing to note is that deposits are not refundable, but they are transferable.  In addition, all cancellations are subject to a minimum of a $150 service charge to cover PayPal transaction fees. In most situations, we ask for the remaining balance of a workshop is to be paid 120 days from the start of the workshop in question. If you wish to cancel within 120 days from the start of a workshop and we find someone to fill your spot, you would be entitled to receive a refund (minus your deposit and the $150 processing fee) or transfer to another workshop with no penalties or fees.
If we don't find someone to fill your spot, what does your refund window actually look like?