The Great Migration - Kenya Wildlife Safari
Come join me on an amazing adventure to Kenya to witness one of the most incredible wildlife migrations on the planet. Here we will not only attempt to capture the river crossings of thousands of wildebeests, but also spend our time learning a variety of different camera techniques and skills as we photograph lions, leopards, cheetahs, hippos, rhinos buffalo, wildebeest, baboons, mongoose, grey crowned cranes, lilac-breasted rollers, and a wide variety of species of other birds found in Eastern Africa. If you are looking for a wildlife photography workshop that provides you the opportunity to photograph some of the most fantastic wildlife species on the planet while learning how to be a better photographer, this workshop is geared just for you!
August 9th – 18th, 2024
(SOLD OUT!)
Important Details: Great Migration Photo Workshop in Kenya
To join this workshop, you will start your adventure by booking a flight to and from the Jomo Kenyatta International Airport in Nairobi, Kenya (NBO), on any major airline.
From there, we will pick you up in our private vehicles to begin our fantastic wildlife adventure.
Look forward to 13 incredible private wildlife safaris and 2 tribal village experiences will on this tour.
Enjoy plenty of room in either of our fully customized photo safari vehicles throughout our adventures in Kenya. You will not only have plenty of space in our vehicles but an empty seat next to you on each of our 13 wildlife safaris. Additionally, you have the option to get a lower camera perspective in many situations as well which isn't possible with most safari vehicles.
My team and I will work with you to make sure you learn to master a variety of different wildlife-focused techniques such as photographing birds in flight, shooting in low light situations, expanding your plane of focus, understanding the features and settings on your cameras and much more…
Throughout this workshop you will explore 3 different national parks and protected areas: Maasai Mara National Park, Lake Nakuru National Park and the Samburu Private Game Reserve.
This trip is gear to photographers of every different skill level, from beginners to professionals. We will work hard to make sure we meet you on your level, answering each of your questions when we are out in the field as well as when we have some downtime at our hotels to focus on the post-processing side of things.
There is a lot to see and experience in Kenya….
The group size is limited to a maximum of 6 people, so If you are interested, sign up today for this fantastic Photography Workshop in August of 2024!
Payment for The Great Migration Photo Workshop in Kenya



This workshop is SOLD OUT, but if you want to be notified if a spot opens up for this trip or any other, click HERE!

The tuition for this workshop is based off of sharing a room with another client. If you wish to have your own room, select single below. The additional costs for the "Single Supplement" will be applied to your final invoice.



* please read the workshop F.A.Q. section on this page to learn more about visiting Kenya and check out our cancellation policies if you have any questions.
Where in Kenya Are We Going?
What Is In Colby's Gear Bag For This Trip?
With a focus on wildlife photography in Brazil, I recommend the following cameras.
Sony a1 (Setup Guide) - The a1 is Sony's flagship mirrorless camera that can handle everything you can try to throw at it. With a 50mp sensor, 15 stops of dynamic range, industry-leading AF performance, and the ability to shoot up to 30fps, this is my go-to camera for most adventures worldwide!
B&H Photo | Direct from Sony | Rent From Lens Rentals
Sony a7R V (Setup Guide) - Another great option would be the Sony a7R V with its 61mp FF sensor and dedicated AI/AF processor. While limited to 10fps, this camera can hold its own in most wildlife-based situations. Just note that with incredibly fast-moving subjects, the Sony a7R V's AF system simply isn't as fast at tracking as the other two recommended camera bodies.
B&H Photo | Direct from Sony | Rent From Lens Rentals
Sony a9 II  - A third alternative or backup would be the Sony a9 II, with its ability to shoot at 20fps with a 24mp FF sensor and a high-speed and accurate AF system. Its solo limitation might be its 24mp sensor, which is less than half the resolution of both the a1 or a7R V listed above.
B&H Photo | Direct from Sony | Rent From Lens Rentals
With longer lenses, you have the ability to fill more of your frame with your wildlife subjects. In Brazil, we will be focusing not only on Jaguars but a broad mixture of birds, reptiles, and other mammal species as well. I won't bring all of these lenses, but they are lenses I recommend for this trip.
Sony 100-400 f/4.5-5.6 GM - A great zoom wildlife zoom lens option for those wanting a bit more reach with their images but still have something relatively portable. While the lens is very sharp, it isn't the fastest lens in the Sony lineup, with a variable aperture of 4.5-5.6. In some situations, the minimum aperture might force you to use a higher ISO to compensate for the lack of light hitting your camera's sensor. It is ideal for larger animals such as Jaguars, Tapier, Caiman, and even larger birds (Jabiru, Egrets and Herons) but it might not offer enough reach for smaller birds such as kingfishers.
B&H Photo | Direct from Sony | Rent From Lens Rentals
Sony 200-600 f/5.6-6.3 G - The most affordable telephoto zoom lens in the Sony lens lineup, the 200-600 is a great lens to use to photograph birds and larger mammals such as Jaguars. It is ideal for most wildlife situations where you have enough light to work with. At f/6.3 at 600mm, this lens will struggle at dawn and dusk, forcing you to shoot at very high ISOs.
B&H Photo | Direct from Sony | Rent From Lens Rentals
Sony 400mm f/2.8 GM - If you are looking for optical perfection, look no further than the Sony 400mm prime lenses. This lenses are by far the sharpest and most impressive glass in the Sony lens lineup, but it isn't cheap or very travel friendly. This lens is ideal for low-light situations with larger mammals, but the 400mm maximum reach is a little short for birders.
B&H Photo | Direct from Sony | Rent From Lens Rentals
Sony 600mm f/4 GM - Sony's longest telephoto prime lens is the 600mm. Like the 400mm, it offers the best optics and sharpness throughout the Sony lens lineup, although it comes at a cost both financially as well as with how portable/travel friendly it is. However, if you are keen on photographing birds, especially the smaller ones, it does not get better than the 600mm f/4 GM from Sony.
B&H Photo | Direct from Sony | Rent From Lens Rentals
What additional accessories might you need for this workshop?
Kinesis SafariSack 4.2 Beanbag - One of the best accessories you can bring with you on a safari is a SafariSack to help you stabilize your camera. The sack is purchased empty but is filled with rice or beans once you land at your destination. You can then drape it over the edges of your safari vehicle to help you stabilize your camera.
B&H Photo
Benro MAD49C Monopod - While a tripod can't be used in a safari vehicle, a monopod might come in handy to help you hold your longer and heavier lenses. Just don't forget to pick up a ball head to attached to your monopod so that you have some freedom of movement when your camera is attached.
B&H Photo
Join the Workshop Waitlist to learn more about any upcoming adventures...
Join the Workshop Waitlist to learn more about any upcoming adventures...
Frequently Asked Questions (F.A.Q)
WHY SHOULD YOU JOIN THIS WORKSHOP?
A GREAT question! As a professional wildlife, landscape, and travel photographer for the last 18 years, I have been very fortunate to have worked all over the globe, both as a photographer and a photo instructor. I started my career working for National Geographic as a photography instructor in South America, and currently, I average around 10-15 workshops each year. I am a firm believer in an organic way to teach photography, which involves a mixture of technical, philosophical, and hands-on learning that gives you the best opportunity to make the most out of each of our workshops. We aim to meet you at your level and work together to help you achieve your goals.
WHEN DOES THE WORKSHOP START?
The workshop begins on August 9th, 2024 in Nairobi, Kenya (NBO Airport code). August 9th is an arrival day, so we have nothing major planned for this day beside a group dinner that night. You are also free to arrive a day early if you want more time to get over any jetlag and rest before our workshop.
*Please confirm your flights with me before purchasing anything to make sure everything lines up
WHEN DOES THE WORKSHOP END?
The workshop ends on August 18th, 2024 in Nairobi, Kenya (NBO Airport Code). After one final game drives this morning, we will drive back to Nairobi (5hr drive), where the workshop will end. If you wish to stay one more night in Nairobi at the Four Points by Sheraton Airport Hotel (our recommendation), we can help you book an extra room.
*Please confirm your flights with me before purchasing anything to make sure everything lines up
WHAT AIRPORT DO I FLY IN & OUT OF?
For this workshop, you will fly in and out of the Jomo Kenyatta International Airport in Nairobi, Kenya (NBO Airport Code).
DOES KENYA REQUIRE TRAVEL/COVID INSURANCE?
I do recommend that you have travel insurance in case of medical emergencies. I recommend THIS one or World Nomads.
WHAT ARE OUR ACCOMMODATIONS LIKE?
IS WORKSHOP TUITION BASED ON DOUBLE OCCUPANCY?
Yes, your tuition fees as based on the idea that you will be sharing a room with another workshop client of the same sex. If you wish to have your own private room, that can be arranged for an additional $1250 USD charge.
WHAT CAMERA GEAR IS NECESSARY?
With the focus on wildlife photography, you will want to have a camera that is capable of shooting at high FPS (Frames Per Second). Additionally, using longer-telephoto lenses will allow you to fill more of the frame with your subjects. Refer to the "Gear" section above on this page for more information.
HOW DIFFICULT IS THE WORKSHOP?
This workshop is not overly challenging in terms of physical activity involved. Most of our adventures will be via a pair of deluxe photographic safari vehicles.
WHAT HEALTH & SAFETY MEASURE WILL BE IN PLACE ?
My goal is to have each of my clients feel safe, healthy, and comfortable throughout the workshop. We will abide by any local or federal COVID-19 regulations put out by the Kenyan government, but currently there are no restrictions.
Meet Your Instructors & Guides Colby Brown
Owner/Photographer/Author
Colby Brown is a photographer, photo educator and author based out of Eastern Pennsylvania. Specializing in landscape, travel and humanitarian photography, his photographic portfolio spans the four corners of the globe and all 7 continents. Not too long after picking up his first digital camera in 2006, Colby was leading workshops for National Geographic in South America, further spurring his love for both travel and photo education. In 2011, he founded The Giving Lens, an organization that blends photo education with support for various non-governmental organizations (NGO) and causes around the world, such as child education, clean drinking water projects, and women's rights.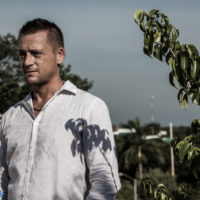 Very Professional Photo Adventure Tour
Colby and Peyton did a great job. Everything was well organized and we had an awesome time, most importantly I learned a lot of new techniques and got new insights of how to become a better outdoor and landscape photographer. Congrats Colby!
Right Place! Right Time! Right Technique!
Colby and Pedro are excellent photo tour and professionals. This is my second workshop with them; my first was Patagonia. As the title suggests, they know where and when to go, and why. Once at a locale, they actively engage with each member of the tour. They are always willing to help - technically or logistically. Iceland in the winter can be a bit of a challenge, and both made the tour enjoyable,(...)
First trip with Colby-Not the last!
A Once-in-a-lifetime experience in Namibia! Goes without saying that you will acquire lots of photography skills, even though you may think you already have them. Nothing compares to having a guide who's been there and knows where to go and when and how. I was not in my comfort zone, which is exactly what I needed to grow both professionally and personally. Well done!
Other Workshops Worth Checking Out!
August 30th - Sept. 6th, 2023

The Pantanal region of Brazil is known as the land of the Jaguar. Nowhere else on Earth is there a higher concentration of these elusive big cats than this remote region of Southern Brazil, close to the Southern Amazon Basin. In addition to Jaguars, you will see Caimen, Capybara and a wide assortment of birds.
Cancellation & Refund Policy
No one wants to miss out on a trip of a life time…but things do happen. In those situations, the following applies…
The first thing to note is that deposits are not refundable, but they are transferable.  In addition, all cancellations are subject to a minimum of a $150 service charge to cover PayPal transaction fees. In most situations, we ask for the remaining balance of a workshop is to be paid 120 days from the start of the workshop in question. If you wish to cancel within 120 days from the start of a workshop and we find someone to fill your spot, you would be entitled to receive a refund (minus your deposit and the $150 processing fee) or transfer to another workshop with no penalties or fees.
If we don't find someone to fill your spot, what does your refund window actually look like?