Wildlife Photography Workshop in Brazil
The Jaguars of Pantanal
Come join me for a once-in-a-lifetime wildlife photography workshop in Brazil to experience the ultimate adventure in the heart of Pantanal Matogrossense National Park. Nowhere else on Earth can you find such a large concentration of wild Jaguars, one of the most elusive and secretive big cats. August is a great time to visit this region as the dry season is in full effect. This limits the number of wading pools deep in the jungle, providing ample reason for the Jaguars to come to the banks of the river to explore, hunt, sleep and relax.
August 30th – Sept. 6th, 2023
The Jaguars of Pantanal, Brazil
The wildlife photography workshop in Brazil starts in the town of Cuiaba, located in the State of Mato Grosso. Here you will be picked up early in the morning at a hotel located just outside the airport and driven to the town of Porto Joffre where we will stay for the first six nights of this wildlife adventure. Every day we will head out to explore the Pantanal by boat in search of Jaguars and other wildlife. This will consists of a minimum of 8hrs on safari each day, split between our morning and late afternoon adventures. From there we head further inland where we spend two nights and 3 days looking for Ocelots, anteaters and other types of birds in an area known as Santa Teresa. 
In addition to photographing these incredible big cats, you will also have the opportunity to photograph Giant River Otters, Capybara, Caiman, Heron's, Kingfishers, Tucans, Jabiru, Tapir, Ocelots, and an assortment of monkey species to name a few.
Sign Up Today & Join Us On This Trip of a Lifetime!
With two photo instructors present for the duration of the workshop, you will have plenty of opportunities for one on one instruction to further the skills that you feel you need to work on. If the workshop is full and you wanted to be added to the waiting list, click HERE
Only 2 Spots Left…


* please read the workshop F.A.Q. section on this page to learn more about visiting Brazil and check out our cancellation policies if you have any questions.
Join the Workshop Waitlist to learn more about any upcoming adventures...
Join the Workshop Waitlist to learn more about any upcoming adventures...
Frequently Asked Questions (F.A.Q)
WHY TAKE A PHOTOGRAPHY WORKSHOP WITH US?
A GREAT question! As a professional wildlife, landscape, and travel photographer for the last 15 years, I have been very fortunate to have worked all over the globe, documenting various aspects of this beautiful planet that we live on. I have extensive experience shooting in nearly every climate you can imagine and even some you can't 🙂 On top of this, I absolutely love teaching. I have worked for National Geographic as a photography instructor in South America and currently, I average around 10-15 workshops year after year. I am a firm believer in the organic approach I take to teaching photography, which involves a mixture of technical, philosophical, and hands-on learning that gives you the best opportunity for not only furthering your photography skills but retaining that information as you progress as an artist well after our time together has ended.
WHEN DOES THE WORKSHOP START?
The workshop starts on August 30th, 2023  in Cuiaba, Brazil.  You will want to arrive a day early as the workshop starts early in the morning on the 8th. If you are on a budget, we recommend you stay at THIS hotel as it is right across from the airport, has good food, and is comfortable.
WHEN DOES THE WORKSHOP END?
The workshop ends on September 6th,  2023. If you can get a flight that leaves in the early evening on that day, you will be fine. Otherwise, you will want to stay an extra night just to be safe. Always confirm your flight times with us before purchasing.
WHAT AIRPORT DO I FLY IN & OUT OF?
You fly into the Marechal Rondon International Airport (CGB) in Cuiaba, Brazil.
DO YOU NEED A VISA TO ENTER BRAZIL?
Most likely, but please consult the Brazilian Embassy to make sure. Many nationalities can apply for an eVISA online. If you are a US citizen, you do not need to apply for a VISA if you enter the country for "tourism".
DO I NEED A COVID VACCINE TO JOIN THIS WORKSHOP?
We will abide by any and all local and national COVID guidelines while in Brazil.
WHAT ARE OUR ACCOMMODATIONS LIKE?
We will be spending most of our time in the Porto Joffre region of the Pantanal, which is home to a large number of Jaguars. Our main hotel is located right on the river, giving us easy and fast access to the extensive river systems in the region. Rooms are based on double occupancy, include an air conditioner, hot showers, and provide all breakfast, lunch, and dinners for our entire group.
WHAT KIND OF TRANSPORTATION WILL WE HAVE?
The Jaguars of the Pantanal region of Brazil are tied to the rivers and streams that flow throughout the region. It is here that they hunt, rest, mate, and raise their young. Because of this, we will have our own private boat to move us around the river systems in the area as we photograph as much wildlife as we can in the region.
WHAT KIND OF WILDLIFE WILL WE SEE?
While our main focus will be photographing Jaguars, the Pantanal region of Brazil is incredibly diverse. You will have plenty of opportunities to see caiman, capybara, egrets, heron, a variety of kingfisher species, river otters, toucans, blue macaws, jabiru, coati, anteater, tapir, spoonbill,  a variety of monkeys and much much more!
WHAT KIND OF CAMERA GEAR SHOULD I BRING?
Because this workshop focuses on wildlife, you will want to bring fast telephoto lenses. I highly recommend bringing something that covers the 200 – 600mm range if possible. You can get away with a 70-200, but you will have to crop in some on your images fairly extensively.
Meet Your Instructors & Guides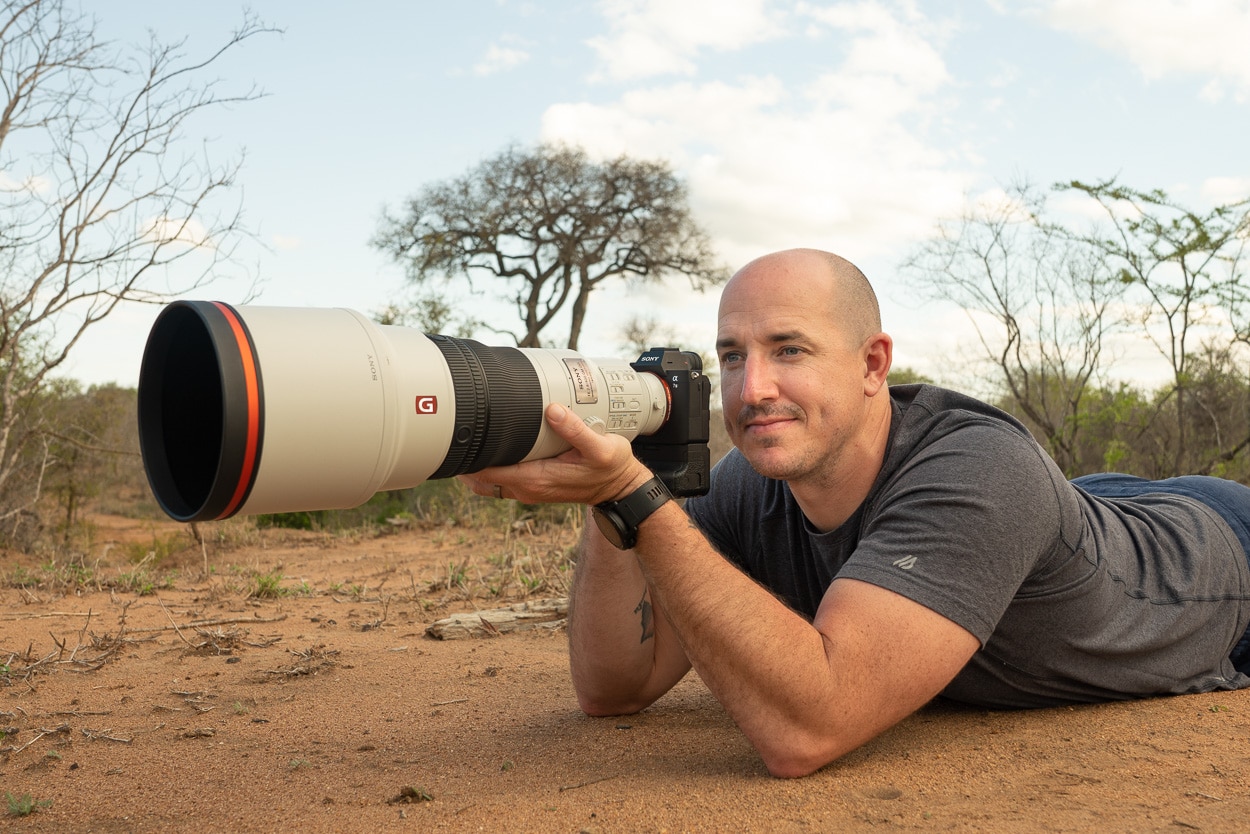 Colby Brown
Owner/Photographer/Author
Colby Brown is a photographer, photo educator and author based out of Eastern Pennsylvania. Specializing in wildlife, landscape and travel photography, his photographic portfolio spans the four corners of the globe and all 7 continents. Not too long after picking up his first digital camera in 2006, Colby was leading workshops for National Geographic in South America, further spurring his love for both travel and photo education. In 2011, he founded The Giving Lens, an organization that blends photo education with support for various non-governmental organizations (NGO) and causes around the world, such as child education, clean drinking water projects, and women's rights.
Other Workshops Worth Checking Out!
October 19th - 26th, 2024

Come join us on an adventure of a lifetime to the amazing Italian Dolomites. We will photograph and explore incredible mountain peaks, beautiful reflected lakes and gorgeous fall colors as we move throughout one of the most impressive mountain ranges in the world.
Cancellation & Refund Policy
No one wants to miss out on a trip of a life time…but things do happen. In those situations, the following applies…
The first thing to note is that deposits are not refundable, but they are transferable.  In addition, all cancellations are subject to a minimum of a $150 service charge to cover PayPal transaction fees. In most situations, we ask for the remaining balance of a workshop is to be paid 120 days from the start of the workshop in question. If you wish to cancel within 120 days from the start of a workshop and we find someone to fill your spot, you would be entitled to receive a refund (minus your deposit and the $150 processing fee) or transfer to another workshop with no penalties or fees.
If we don't find someone to fill your spot, what does your refund window actually look like?