Greenland Photography Workshop
Come join me on an amazing adventure to one of the most unique destinations on the planet, Greenland. Here we will spend 6 days chasing the midnight sun around the waters that surround Greenland on our pair of sailboats with beautiful red sails. With a max of 16 clients, we will split our group into two groups of 8 on each boat, giving everyone the opportunity to capture amazing images of icebergs along with these incredibly photogenic sailing vessels. During the day, we will sleep at a comfortable 4-star hotel on the mainland to rest before heading back out each night to chase the amazing light. This is one of two trips each year that will get nearly 24hrs of sunlight, giving our group unprecedented photographic opportunities!
Important Details: Greenland Photography Workshop
To join this workshop, you will start your adventure by booking a flight to and from the Ilulissat Airport in Greenland (JAV). If you are flying in from Copenhagen, you can look for flights via AirGreenland. If you are coming from the US, you must most likely transit through Iceland as Air Iceland has regular direct flights from the Reykjavik Domestic airport.
Once you arrive, we will pick you up at the airport and shuttle you to our hotel so you can check-in. After our group dinner that night, our adventure will officially begin!
While we stay in 4-star hotels on the mainland to sleep during the day, each evening/night, we will spend exploring the waters around Greenland on our two sailing boats, both of which have the famous red sails. By splitting the group up each night (8 clients per boat), everyone can photograph these incredibly beautiful vessels amid the massive icebergs and incredible light we experience.
Throughout this adventure, we will explore the Disco Bay area, well above the Arctic Circle, along Greenland's western coast. 
Greenland is an incredible destination for Drone photography and video work, so if you have a drone, I recommend bringing it!
This trip is geared to photographers of every different skill level, from beginners to professionals. We will work hard to ensure we meet you on your level, answering each of your questions when we are out in the field and when we have some downtime at our hotels to focus on the post-processing side of things.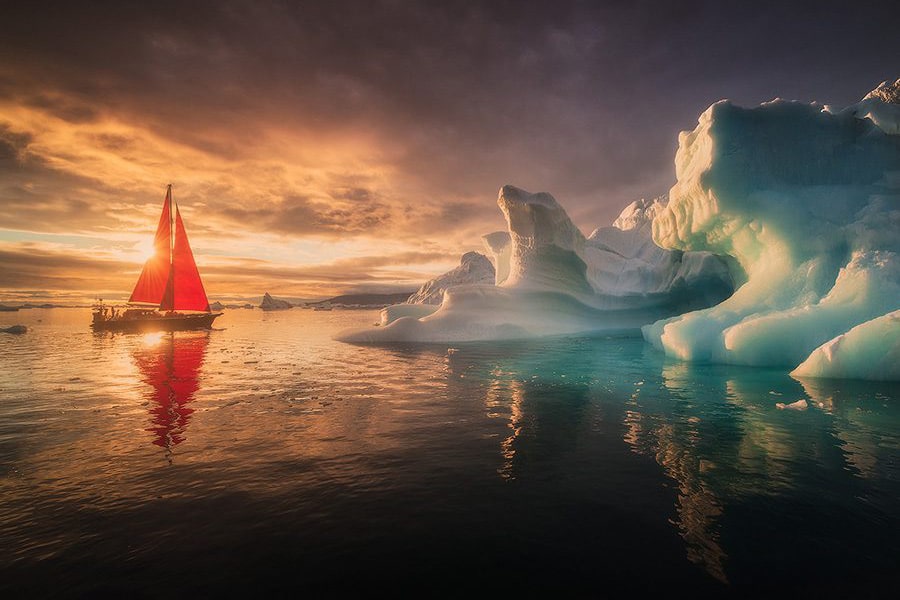 Payment for Greeland Photography Workshop
If this workshop is sold out and you want to be notified if a spot opens up for this trip or any other, click HERE!
* please read the workshop F.A.Q. section on this page to learn more about visiting Greenland and check out our cancellation policies if you have any questions.
Where in Greenland Are We Going?
Join the Workshop Waitlist to learn more about any upcoming adventures...
Join the Workshop Waitlist to learn more about any upcoming adventures...
Frequently Asked Questions (F.A.Q)
WHY SHOULD YOU JOIN THIS WORKSHOP?
A GREAT question! As a professional wildlife, landscape, and travel photographer for the last 18 years, I have been very fortunate to have worked all over the globe, both as a photographer and a photo instructor. I started my career working forNational Geographic as a photography instructor in South America and currently, I average around 10-15 workshops each year. I am a firm believer in an organic to teaching photography, which involves a mixture of technical, philosophical, and hands-on learning that gives you the best opportunity to make the most out of each of our workshops. Our goal is to meet you at your level and work together to help you achieve your goals.
WHEN DOES THE WORKSHOP START?
The workshop begins on July 13th, 2024 at the Ilulissat Airport in Greenland (JAV airport code). We recommend you arrive by 1pm. Please confirm your arrival flight with us as our hotel provides an airport shuttle to bring you to our hotel. After our group dinner that night, our adventure begins!
*Please confirm your flights with me before purchasing anything to make sure everything lines up
WHEN DOES THE WORKSHOP END?
The workshop ends on July 19th, 2024 at the Ilulissat Airport in Greenland (JAV airport code). If you wish to stay in Greenland and explore more of the country, we can help you arrange that. However, if you are ready to head home, we will drop you off at the airport in time to catch your return flight.
WHAT AIRPORT DO I FLY IN & OUT OF?
For this workshop, you will fly in and out of the Ilulissat Airport in Greenland (JAV airport code).
DO I NEED TRAVEL INSURANCE?
It is HIGHLY recommended that you purchase travel insurance for this workshop. Not only because of the high costs of this adventure but because the weather can be unforgiving at times in Greenland, and disruption are possible. I recommend World Nomads or Insured Nomads, but there are other good ones out there as well.
WHAT ARE OUR ACCOMMODATIONS LIKE?
While the bulk of our shooting time in Greenland will be done from our two incredible sail boats (with the red sails), we will be sleeping at a 4 star hotel in Ilulissat. If you want, we can offer everyone a single room for an additional $1000 or you can share a room with another client of the same sex if you are coming on your own.
IS WORKSHOP TUITION BASED ON DOUBLE OCCUPANCY?
Yes, your tuition fees as based on the idea that you will be sharing a room with another workshop client of the same sex. If you wish to have your own private room, that can be arranged for an additional $1000 USD charge.
WHAT CAMERA GEAR IS NECESSARY?
With our focus on photographing giant icebergs off the coast of Greenland which can include our two sail boats with red sales, your most used lenses would be a 24-70 and 70-200 equivalent. Additionally, we might encounter some wildlife in the form of humpback whales, seals and seabirds, so you are free to bring a larger lens as well. Additionally, Greenland is an incredible destination to use a drone, so if you have one, we do recommend that you bring it!

See our "Gear Section" on this workshop page for more in-depth information…
HOW DIFFICULT IS THE WORKSHOP?
This workshop is not overly challenging in terms of the physical activity involved. Most of our shooting will be done from a pair of sailboats just off the coast of Greenland.
WHAT HEALTH & SAFETY MEASURE WILL BE IN PLACE ?
I aim to have each client feel safe, healthy, and comfortable throughout the workshop. We have full crews on each sail boat with years of experience in these waters. Everyone's safety is always my #1 priority with these adventures!
Meet Your Instructors & Guides Colby Brown
Owner/Photographer/Author
Colby Brown is a photographer, photo educator and author based out of Eastern Pennsylvania. Specializing in landscape, travel and humanitarian photography, his photographic portfolio spans the four corners of the globe and all 7 continents. Not too long after picking up his first digital camera in 2006, Colby was leading workshops for National Geographic in South America, further spurring his love for both travel and photo education. In 2011, he founded The Giving Lens, an organization that blends photo education with support for various non-governmental organizations (NGO) and causes around the world, such as child education, clean drinking water projects, and women's rights.
A Truly Tailored Experience
I'm a full time working photographer who is always looking to further my skills. After chatting with Colby I decided that his Iceland photography workshop would be a great fit for me and I was right. Colby pays special attention to individual needs and will keep handing out the knowledge for as long as you keep asking for it. I would recommend a Colby Brown workshop for anyone from a pure beginner photographer to a working professional.
Workshop in the Pantanal region of Brazil
My 15-year-old son and I were lucky to have Colby all to ourselves on this adventure photographing jaguars and other wildlife in the jungle of Brazil. Not only is Colby a master photographer, he is an incredible guide and has the perfect demeanor to head up the multitude of challenges that can be found when traveling to remote locations. He was wonderful with my son — gave him lots of encouragement and(...)
Ugandan Safari of a Lifetime!
My husband and son are interested in photography; and going on an African Safari was something we all wanted to do. We found Colby's tours and made one work for our schedule. Colby made this trip a huge success for us. He was entertaining, knowledgeable of the country and photography. He was kind enough to encourage me on my little point and shoot. Recounting our trip elicits jealousy amongst our(...)
Other Workshops Worth Checking Out!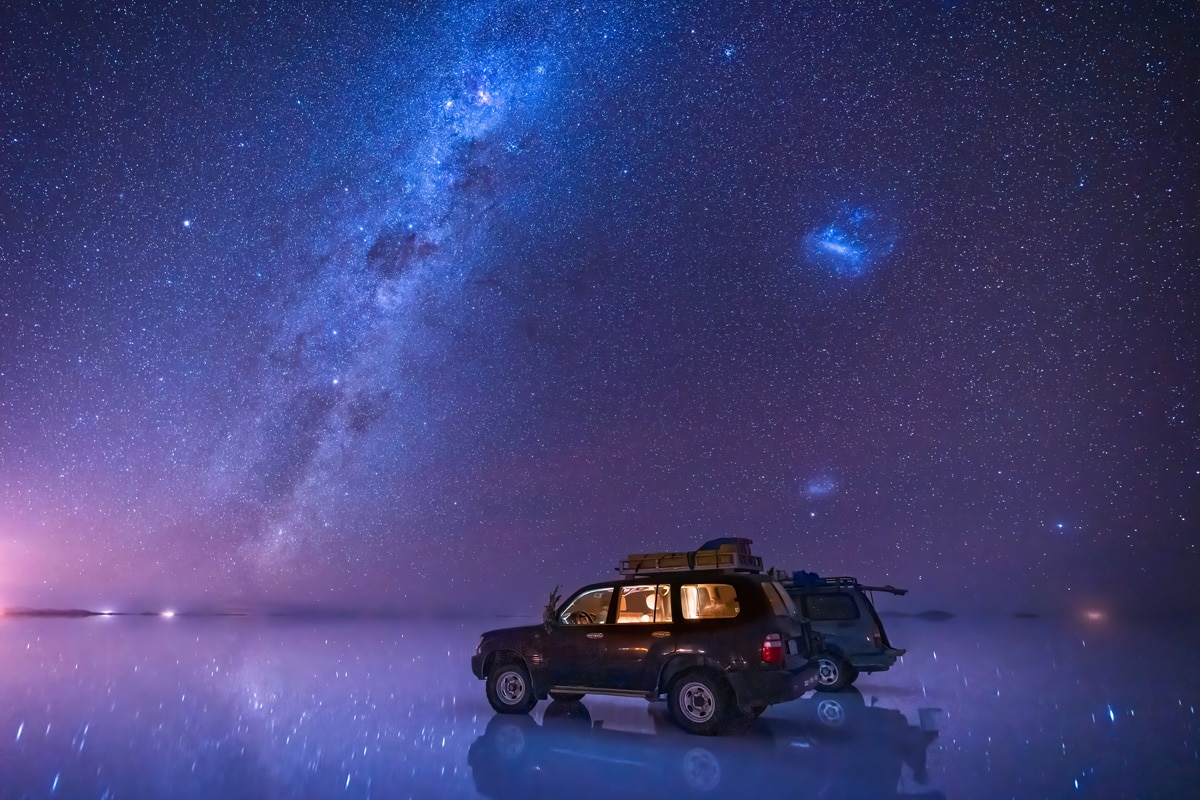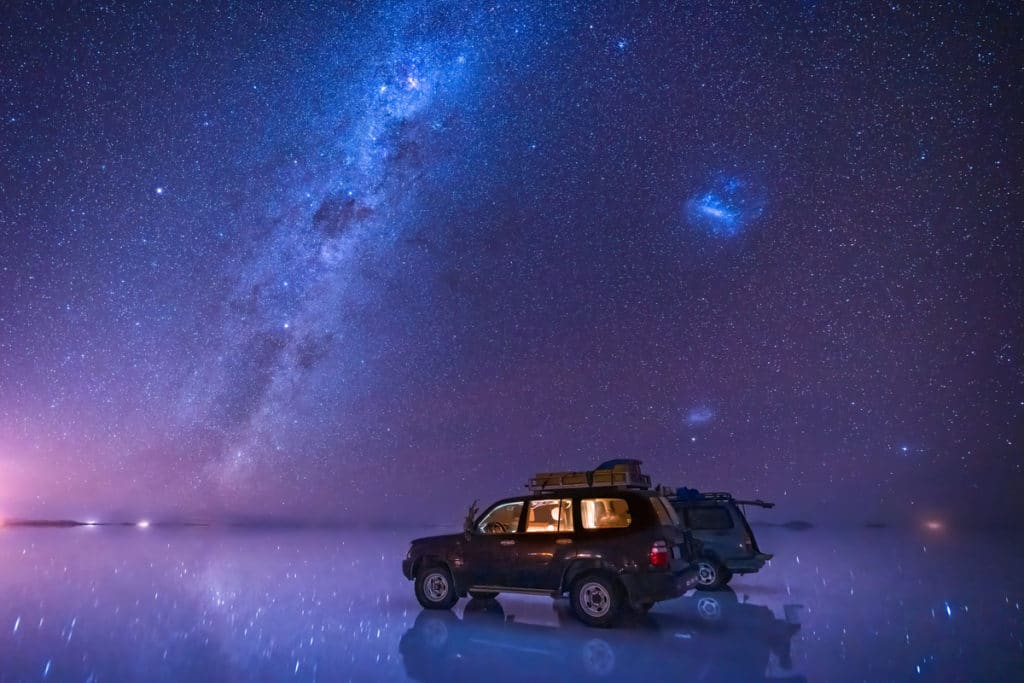 March 7th - 13th, 2024

Join me in Bolivia for an incredible adventure focuses on astro, landscape and wildlife photography as we explore the famous Salar de Uyuni with its glass like reflections as well as the high-altitude lagunas full of a variety of different species of Flamingos.
Cancellation & Refund Policy
No one wants to miss out on a trip of a life time…but things do happen. In those situations, the following applies…
The first thing to note is that deposits are not refundable, but they are transferable.  In addition, all cancellations are subject to a minimum of a $150 service charge to cover PayPal transaction fees. In most situations, we ask for the remaining balance of a workshop is to be paid 120 days from the start of the workshop in question. If you wish to cancel within 120 days from the start of a workshop and we find someone to fill your spot, you would be entitled to receive a refund (minus your deposit and the $150 processing fee) or transfer to another workshop with no penalties or fees.
If we don't find someone to fill your spot, what does your refund window actually look like?