In May of this year (2018), Dell launched the XPS 15 2:1 9575 hybrid laptop powerhouse, a device I have personally been looking forward to for some time. Back in November of last year, Dell invited me and a handful of people to a private event in Austin where among other things, I was able to briefly check out a prototype of what would eventually become the 9575. As a photographer and creator, this laptop seemed to check a lot of important boxes when it came to building my dream laptop, but that was on paper. How well does it work in real-life situations?
For the last few months, I have taken a Dell XPS 15 9575 with me all over the world as I worked on marketing projects and ran a series of photo workshops. From Iceland to Norway, Australia to Papua New Guinea, to the US Virgin Islands and where I currently am working in Brazil, I have been putting this machine to the test to see what it is capable of, find out where it falls short and see first hand where it shines. So how did it do? Let's jump right in to find out!
Specs Dell XPS 15 2:1 9575
With prices ranging from $1,199.99 all the way up to $2,859.99 USD, there are a variety of different variations available of the XPS 15 2:1. The model I have been using has the following specs. LINK
8th Generation Intel Core i7-8705G Quad Core CPU
16GB DDR4-2400MHz RAM
1TB m.2 2280 PCIe SSD
15.6 4k Wide Gamut Touch Display
Radeon RX Vega M GL GPU with 4GB HMB2 Memory
Ports & Slots: 1. 2x USB-C 3.1 with Power Delivery & DisplayPort | 2. Headset jack | 3. Noble lock slot | 4. 2x Thunderbolt 3 with Power Delivery & DisplayPort (4 lanes of PCIe Gen 3) | 5. MicroSD card reader | 6. Battery gauge indicator
6-Cell 75WHr Battery
Windows 10 Professional 64bit
Silver Color
Weight: Starting at 4.36lbs
It is important to know that unlike Dell XPS laptops in the past, the new XPS 15 2:1 is not really "upgradeable", so be sure to max out the RAM, CPU and SSD sizes that you need when you purchase it. In the past, you could open up a slot at the bottom of the laptop and swap out your RAM, but like many other premium laptops these days, RAM is now soldered onto the logic board of the device.
Design & Build Quality
When it comes to creating premium products in the laptop space, Dell is certainly one of the industry leaders. While Apple tends to get a lot praise in this area, Dell has been pushing out well designed and built machines for years and the Dell XPS 15 2:1 is no exception.
While the XPS line has historically had a distinctive look with its platinum silver machined aluminum body and black woven carbon fiber palm rest interior, 2018 seems to be the year that Dell has begun to expand it's horizons a bit. This started with the Rose Gold/White version of the Dell XPS 13 (9370) that I reviewed here on this blog, and this continues with the new Brushed Onyx (black) version of the XPS 15 2:1 that looks pretty amazing. While I picked up the standard Platinum Silver body, I do have my eye on the Brushed Onyx version when Dell releases a 32GB RAM version by October, but more on that later.
Regardless of which version you get, the body of the laptop feels incredibly solid and well built. The edges have a nice round look and feel to them and overall the laptop itself feels very balanced in terms of both size and weight distribution. This is partly to do with Dell's choice of materials, but also in how they designed the screen. Like all other XPS laptops, the 9575 2:1 has an "Infinity Edge" display, which in simple terms means that it has incredibly small bezels, allowing the screen to take up as much space as possible. This has allowed Dell to fit a 15.6″ display inside a laptop that more closely resembles a 14″ body.
Speaking of the display, you will quickly notice the new hinges to the XPS 15 line that allows the screen to fully rotate 180 degrees. While they do stand out to the black interior, they appear to be well built and incredibly sturdy. I didn't notice any wobble or movement when typing on the keyboard or when using the Dell Active Pen in laptop mode (something the MS Surface Book 2 can't say), which is impressive.
In terms of ports and card slots, you have plenty of options. On the left side of the laptop, you have two Thunderbolt 3 ports (4) that come with both Power Delivery & DisplayPort. These slots give you access to 4 lanes of PCIe Gen 3, allowing you to plug in an external GPU for more advanced graphical needs. Additionally, you have a MicroSD card reader (5), which should have been a full SD card slot in my opinion, as well as a Battery gauge indicator (6). Hidden near the front of the laptop on the left side is a magnet for the Dell Active Pen to hold it in place. While it does form a pretty strong connection, it can still pop off when sliding the laptop into a messenger bag, which I found out the hard way when I almost lost my pen while traveling through Australia.
On the right side of the laptop, you will find two USB-C 3.1 ports w/ Power Delivery + DisplayPort (1) as well as a Headset jack (2) and Noble lock slot (3) to keep the laptop secure to a desk if needed.
Keyboard & Trackpad
With the XPS 15 9575, Dell has opted to use its new "Mag-Lev" technology in the keyboard, allowing the laptop to be thinner while still providing good keyboard feedback. Unlike the Apple MacBook Pro design, Dell uses magnets to help return a pressed key to its original position, which means it won't suffer from the same issues that plagued Apple's controversial MacBook Pro keyboards. While I wouldn't of minded a little more key travel, I actually really enjoy using the keyboard. It does feel different at first, but you definitely get used to it. I ended up writing this entire review on my 9575.
With the trackpad, there isn't much new here. Dell has consistently put quality trackpads in their XPS laptops that are not only responsive, but that feels good to the touch. They certainly aren't as big as the ones found in Apple's MacBook Pros, but they are taking up enough space to be useful when needed.
The Display
If you are familiar with any of Dell XPS's laptops you know that Dell never skimps on the display. With the 9575 Dell has included an incredible wide gamut IPS 4k touch display that is virtually bezeless. Dell calls this "Infinity Edge", which as I mentioned earlier allows this 15" laptop to essentially fit inside a 14" body. The display is big, beautiful and certainly one of the most noticeable elements of this XPS system.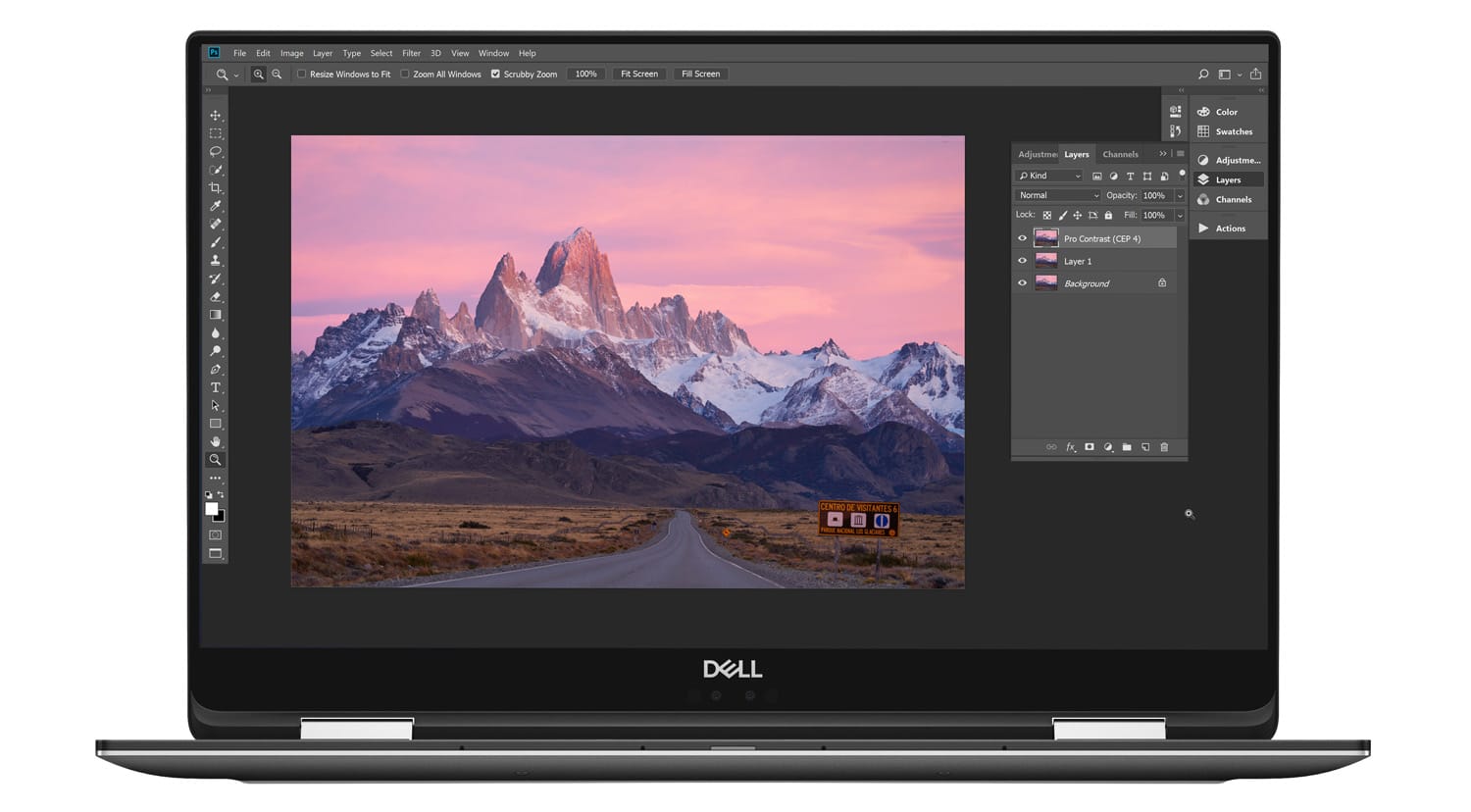 In terms of color, Dell says the display covers 99% of the sRGB color space as well as 98% of Adobe1998, both of which are important for photographers and cinematographers. The screen is IPS (which stands for In-Plane Switching), so reflections, while not nonexistent, are fairly minimal. It doesn't hurt that the XPS 15 9375 comes with a brightness of 400 nits, which helps keep the screen usable when using it outside in broad daylight.
Now with all that said, my favorite thing about this XPS 15 is not the beautiful display itself, but the technology that lives underneath it. Dell licensed Wacom pen stylus support with this machine, which allows me to use the optional Dell Active Stylus right on the display itself, which is a pretty big deal! How big?
Editing photos with a pen is single-handedly the most transformative technology I have ever used that has shaped how I edit and process my images. It is simply much more precise, accurate and easier to use than a mouse…and certainly much better than a trackpad. Even with my custom built PC back at my office, I have a large Wacom Intuos Pro on my desk which I use daily, but it is not practical to bring with me on the road. Having the ability to use a pen directly on my laptop is a HUGE win for this device!
In terms of how it performs, it is a pleasure to use. It is highly responsive with almost no latency (delay). I use it all the time in programs like Photoshop and Lightroom when I need more accurate selections or paint in effects such as contrast or saturation to very specific areas of an image. On the pen itself, you have three buttons you can customize, two on the side of the pen and the one on the top via Wacom's on Pen Software which you can customize on a per-application basis.
When using the pen stylus, it is most comfortable to use the pen when the device is in "Tablet Mode" which essentially is when the screen is folded back onto the underside of the keyboard. However, when this happens, you lose all functionality of the keyboard…which means to keyboard shortcuts. This can be frustrating for many people, especially those that use programs such as Photoshop or Capture One. Luckily there is an application called "Tablet Pro" that you can purchase from the Windows store that is fully customizable and helps you use any shortcut you want. When you are not using it, the application hides as a small icon in your taskbar, but once you click on it a small panel opens on the left side of your screen, slightly moving your current application over in the process. This makes it easy for you to access any of the custom shortcuts you have programmed into the application. Click on the taskbar icon again and the panel hides once again.
Power & Performance
When of the best things found in the Dell XPS 15 9575 is the Intel i7-8705G Quad Core CPU. Not only is this 8th generation CPU faster than any previous Intel CPUs, but it is backed by 65 watts of power. Why is that important? Many ultrabooks often opt for powerful CPUs that are underpowered, using opting for 27 watt CPUs. This helps the manufacturer not only save battery life but also deal with less heat coming off the CPU. With the Intel i7-8705G, you pretty much have a desktop class Quad Core i7 in this laptop, which means it can handle just about anything you throw at it.
As a Sony Artisan, one of my main camera bodies is the a7R III which puts out 42mp images. No matter how many images I through at Adobe Lightroom, Photoshop, Capture One or On1 Photo RAW, this laptop didn't skip a beat. I didn't notice any lag or studdering when it came to processing images, using the pen stylus for localized adjustments…nothing. I would still like to see 32GB of RAM in this laptop, but for the most part, 16GB never felt all that limiting.
But what about video work? Can it handle transcoding and playing back 4k footage in Adobe Premier? Absolutely! It even handled complicated edits with ease as I moved through my workflow. While the new Intel i9 six-core processors can render videos quicker, the Intel i7-8705G is significantly faster than all previous XPS laptops to date.
In terms of gaming, there isn't a lot to get excited about. The new AMD/Intel partnership that has the AMD Vega GPU built into this laptop is an interesting premise that can handle light to mid-level gaming at 1080p, but that doesn't make this a gaming laptop. Don't expect to be playing anything in 4k while maintaining frame rates that would be even close to acceptable. You can get away with PUBG on 1080p or lower and if you don't mind playing at 30 fps though…
To keep as of this power cool, Dell used the same ultra-thin GORE Thermal Insulation that it put into its newest XPS 13 9370. This is said to help improve thermal conductivity levels and keep the system cool while the CPU & GPU are being pushed. All in all, it seems to work well as I didn't notice any excessive heat coming off the bottom of the laptop while using it. While fan noise was very noticeable at first, Dell has come out with two Firmware updates since it's launch to address when they come on and how loud they get.
It is, however, important to know not to place this laptop on a bed or sheet while forcing the CPU to be heavily used. Why? Because the air intake for the two large liquid crystal fans is under the laptop, which can cause the computer to heat up much faster and hotter than desired. Always have it on a desk, your lap or at least but a book or something under it if you are on your bed so that it can get the air it needs to help cool it's powerful system.
Battery Life
With all the power under the hood of the XPS 15 9575, there was bound to be a trade-off. Inside the laptop, you have a battery that is rated for 75 Wh Lithium-Polymer, 6-cell, which is a pretty solid size when compared to its competition. But regardless, there is a lot of technology inside this laptop that it has to power which includes the 4k touch display, AMD Vega GPU, Wacom Pen Stylus Support and the desktop class 47 watt i7 Quad Core CPU.
So how does it fair? Decent, but not spectacular. On average I was able to use the laptop for around 5-6.5hrs of use, which often includes a mix of email, web surfing and photo editing. If I was just going to be processing images, I would count on 3-4 hrs off a single charge as those processes tend to be more power-centric.
The good news is that the laptop charges via USB C and charges pretty quickly via Dell's 130-watt charger. Additionally, you can pick up the optional "Dell Modular Powerbrick" which will essentially give you a few more hours of battery life. I will talk a bit more about that near the end of the review.
Dell's Eco-friendly Approach
While some potential customers might not pay attention to how eco-friendly a product is, this mindset is changing and changing quickly these days. With that in mind, let's talk a little about what Dell is doing in this space because I think it deserves a bit of attention…
To start things off, Dell is no using full recyclable products in its shipping and packaging of its laptops. 25% of this comes from Dell Ocean Plastics initiative to use recycled ocean plastic from places such as Haiti within its shipping materials. The other 75% comes from other recycled elements as well.
While that is good and all, what about the laptop itself? Dell is claiming that 90% of the Dell XPS 15 9575 is fully recyclable and or reusable. This is a pretty big deal as you can see from THIS incredible project photographer Ben Von Wong created earlier this year to highlight the insane amount of waste coming from the computer sector each year.
While I fully realize these aren't often deal-breaking points, it is great to see a company like Dell taking the initiative to do this right, even when those efforts aren't always fully appreciated by the average user out there.
Optional Accessories
While these optional accessories at not required to use the Dell XPS 15 9575, I do highly recommend that consider purchasing them as they have saved me many times while out in the field throughout my travels.
Dell Active Pen (PN579X)
This should go without saying by now. What makes the Dell XPS 15 9575 so special is the fact that it has Dell Active Pen Support built right in. To leverage the Wacom technology that dell licensed to use in this device, you will need to purchase this optional pen as it does not come with the laptop. The pen is well built, works great and is a must-have in my opinion.
USB C Cables
With Dell moving to the pure Thunderbolt 3/USB C port design with this laptop, you will want to invest in a few cables so that you can use your laptop to plug into additional displays or projectors. I recommend that you pick up a USB C/Thunderbolt 3 to HDMI 4k cable as well as a USB C/Thunderbolt 3 to HDMI 4k Adapter. Both of these accessories should make your life connecting to HDMI outlets much much easier. I throw both of these in my bag any time I head out the door just in case.
Dell PH45W17 Modular Power Bank
If battery life is vitally important to you, you might consider picking up the Dell PH45w17 Power Bank. It has a Lithium Ion 4-cell battery that is rated at 12800 mAh. It charges your laptop via USB-C and has an additional standard USB port to help you charge other devices at the same time. While it won't recharge your laptop multiple times, it will help you squeeze out a few more hours of use out of your Dell XPS 15 2:1, which makes it worth having in my mind!
G-Technology G-Drive Mobile SSD HDs
While you can opt for the 1TB model of this laptop, you might prefer to pick up a few portable SSD hard drives from G-Technology that utilize USB 3.1/Type C technology. The G-Drive Mobile SSD uses the incredibly fast speeds found via USB Type C connections, allowing you to store images, videos or really anything that you still need quick access to on these drives and your Dell XPS 15 2:1 won't skip a beat. I carry three 2TB R-Series drives with me at all times so I always have a backlog of images with me that I can process on the road.
Final Thoughts
With the XPS 15 2:1 9575 Dell has come incredibly close to making the perfect laptop for photographers. Not only does it have a beautiful look with a well-built design, but with the inclusion of the quad-core Intel i7-8705G that has a TDP of 65 watts, Dell has given us a laptop with a whole lot of power that can handle just about anything you through at it. Want to edit a bunch of 45mp images in Lightroom, Photoshop or Capture One, no problem. Throw in your latest 4k video into Adobe Premier and you won't have any playback issues. It can even handle some light gaming thanks to the inclusion of the AMX RX Vega GPU built into the device.
While the display has often been the hero of the XPS line of laptops, the 9575's magic is hidden underneath its gorgeous 4k wide gamut touch display. The 9575 gives you the ability to use Dell's Active Pen on the screen itself, leveraging licensed Wacom tech to get the job done. If you haven't processed an image with a pen before, you are truly missing out! Add in the versatility of a screen that can rotate 180 degrees and it is hard not to love this device.
However as I said before, no laptop is perfect. I would have loved to the ability to squeeze a few hours of additional battery life out of this device, but to be fair its 4-6 hrs of usage didn't seem to hold me back while traveling. At just over 4lbs, it isn't the lightest laptop out there, but it attempts to make up for that via the performance it provides and the smaller footprint it has thanks to its infinity edge display.  The Webcam is also still located at the bottom of your screen, which does make for a bit of an awkward angle when using the laptop in the standard position. Lastly, while you can currently max out your RAM at just 16GB, the 32gb variant should be coming out in September or October.
So now that I have finally finished with this review, will I keep using this laptop? Absolutely! It has quickly become my go-to powerhouse laptop for any project I have where I know I need to do some serious editing on the road. Especially once the 32gb version comes out in the next few weeks!
Full Disclosure
While Dell did not ask me or pay me to write this review, they did provide me with the laptop that became the basis of this review. Over the last 12 years, I have learned the value of the trust that I have developed with both my followers and readers of this blog. I would never put that trust at risk by writing a false review. All of the thoughts found in this review are my own and based on my own experience of extensively using this laptop over the span of a few months. Any reviewer that would throw a review for a company shouldn't be reviewing products in the first place!