Exploring South Georgia Island
Come join me for an incredible photo workshop adventure to the most amazing wildlife location on the planet, South Georgia Island. So what makes this location so special? Imagine if the Galapagos Islands had a baby with New Zealand. Sprawling mountains peaks, glaciers, and fjords covering an island that is home to millions of penguins, seals and a variety of different bird species that have been left alone with mother nature for the last 60 years. So few people actually visit this island that the local wildlife is more curious than cautious, which helps make it one of the most unique & intimate wildlife photography destinations on Earth.
Nowhere else on the planet could you make a zodiac landing on a beach surrounded by snow-capped mountains that is home to 500,000 nesting king penguins. As you make your way to the heart of the colony, you will walk past thousands of fur seals & elephant seals while photographing many of the 78 known bird species found on South Georgia. Did I also mention that you have a good chance of seeing both Humpback and Fin whales breaching out of the water surrounding our boat? I probably should have mentioned that earlier 😉
The 15 day/14 night workshop begins in Punta Arenas, Chile where we will meet our group on October 26th, 2019 before jumping on a private flight to the Falklands Islands. It is there that we board our expedition vessel, the Akademik Sergey Vavilov. Originally built as a research vessel, the Vavilov is one of the best expeditions ships in the waters around South Georgia and the Falkland Islands. With a max capacity of 92 passengers, you are guaranteed to be able to maximize your time on the ground in South Georgia for our land-based activities. Why? Because larger ships with a much larger passenger capacity are regulated to a maximum of 100 people on shore at a time, forcing those larger ships to not only split their landing parties but also limit the amount of time each group has onshore as well. With the Vavilov, we don't have these issues!
While the vast majority of our time on this workshop will be spent exploring a variety of different landings in South Georgia itself, our journey to and from the Island from the Falklands takes roughly two days of sailing. Fortunately, this photo workshop happens to coincide with a Photography Symposium aboard the Vavilov. What does this mean? Instead of just having access to my photography classes specific to this workshop, you are free to join any number of other lectures, class or demonstrations lead by 3-4 other professional photography instructors throughout our time in South Georgia.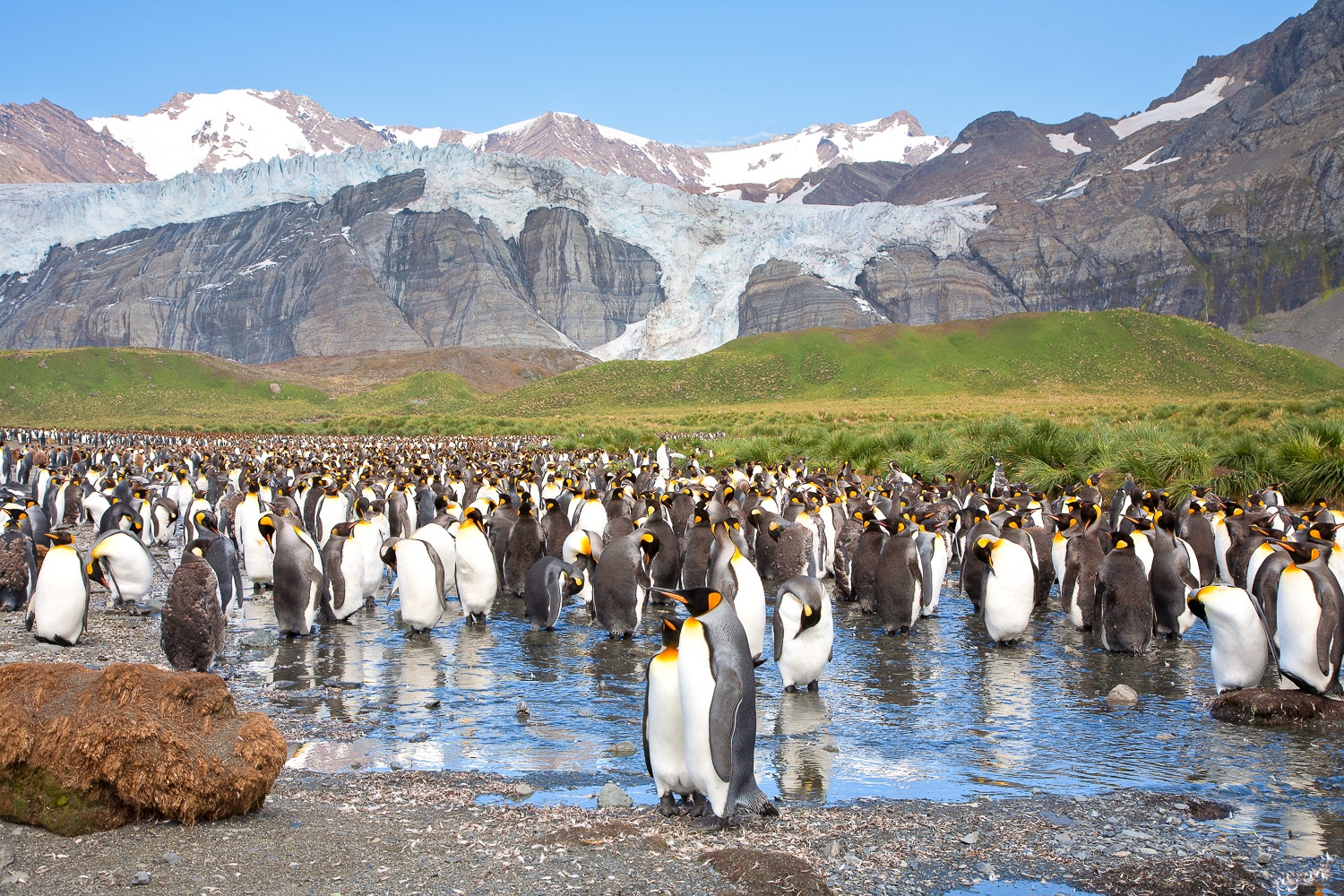 With two photo instructors present for the duration of the workshop, you will have plenty of opportunity for one on one instruction to further the skills that you feel you need to work on. If the workshop is full and you wanted to be added to the waiting list, click HERE.
* please read the workshop F.A.Q. section on this page to learn more about visiting South Georgia and check out our cancellation policies if you have any questions.
What Will You Experience?
Join the Workshop Waitlist to learn more about any upcoming adventures...
Join the Workshop Waitlist to learn more about any upcoming adventures...
WHEN DOES THE WORKSHOP START?
The workshop starts on October 26th, 2019 in Punta Arenas, Chile. It is HIGHLY advised that you arrive at least 1 day early to account for any issues with flights or luggage while in transit. On the 26th we will fly to the Falkland Islands and begin our adventure! The flight to the Falklands is included in your workshop fees.
WHEN DOES THE WORKSHOP END?
The workshop ends on November 9th, when you take a return flight from the Falkland Islands back to Punta Arenas, Chile. (Flight is Included in Tuition Fees).
WHAT AIRPORT DO I FLY IN & OUT OF?
You will fly into the Punta Arenas, Chile Airport (PUQ). You can find direct flights here through Santiago, Chile.
WHAT KIND OF SHIP WILL WE BE ON?
Once we get to the Falkland Islands we will board our expedition vessel, the Akademik Sergey Vavilov. With a maximum of 92 passengers, this ship is perfect for exploring South Georgia because it puts our entire crew under the 100 passenger limit that can make landings at any given time. This maximizes your time in the field and on shore at each of our landings in South Georgia. HERE is a link to a Google Image Search of the Vavilov, so you can get a better feel for what it looks like inside and out.
WHAT ARE OUR ACCOMMODATIONS LIKE?
On the Akademik Sergey Vavilov, we have a variety of different accommodation options available. At our base price, you can join a triple room share with other guests from our group. From there the price goes up for both double and single options that I have reserved for our group. If you are interested in these other options, please reach out to me directly!
WHAT KIND OF ANIMALS WILL WE SEE?
South Georgia Island is truly home to one of the most spectacular wildlife spectacles on Earth. During our voyage, you will see beaches full of hundreds of thousands of penguins (King, Gentu, Macaroni) as well as a variety of fur and elephant seals. Additionally, there are over 78 different species of birds that call South Georgia home, including Albatross. To top things off, there is a good chance we could see both Humpback and Fin whales breaching during the course of our expedition.
TELL ME MORE ABOUT THE PHOTOGRAPHY SYMPOSIUM
The added bonus with this workshop is that the ship we are using is hosting an incredible Photography Symposium program that is open to all guests on the ship, including my group. Here you will experience a number of different photographic instructors teaching a variety of classes throughout our time in South Georgia as well as on shore. You can partake in these activities as much or as little as you want, as our group will be doing our own educational activities as well!
WHAT CAMERA GEAR SHOULD I BRING?
This workshop is almost primarily focused on wildlife, although the mountains and general scenery found throughout South Georgia is truly incredible in its own right. With this in mind, I recommend bringing either a 70-200 or 100-400 with you as wildlife will undoubtedly get very close to you as they have no fear of humans. Having a wide angle or mid-range zoom isn't a bad idea either, as subjects get closer and the mountains of South Georgia begin to look even more impressive.
While you should expect the possibility of extreme weather, the temperatures we experience in South Georgia will be fairly mild (40's - 50's F). Fortunately, you will also be provided with over $900 in gear to use while on the trip. This includes a waterproof wind jacket, bib-pants and insulated rubber boots for our landings. Additionally, you will get your own pair of binoculars and a waterproof backpack as well. You will be responsible for bringing your base and mid layers to stay warm. Merino wool is recommended!
No, although you will need a VISA to both enter Chile to join us in Punta Arenas for the start of the workshops as well as one for the Falkland Islands (UK), which is where we meet our expedition vessel before heading toward South Georgia.
Meet Your Instructors & Guides Colby Brown
Owner/Photographer/Author
Colby Brown is a photographer, photo educator and author based out of Eastern Pennsylvania. Specializing in landscape, travel and humanitarian photography, his photographic portfolio spans the four corners of the globe and all 7 continents. Not too long after picking up his first digital camera in 2006, Colby was leading workshops for National Geographic in South America, further spurring his love for both travel and photo education. In 2011, he founded The Giving Lens, an organization that blends photo education with support for various non-governmental organizations (NGO) and causes around the world, such as child education, clean drinking water projects, and women's rights.
Beyond Expectations!
The trip to Cuba was out of this world; Colby and his team's meticulous attention to detail and elaborate plans for each hour of each day made it a very efficient photo trip. The things we did and the places we went would never be possible without the insider knowledge and experience Colby had. The photography instructions were always kind and I learned many new things not only from Colby but also from my(…)
John F
Posted on:
Costa Rica Wildlife Experience
Excellent intro to macro photography!
I came into this workshop having shot lots of landscape, but without much experience with macro or flash. Colby brought instruction to my level and helped me get started with this equipment. The trip was well organized, and the local guides were great. Every day, the workshop tour brought us to places with plenty of opportunities for unique wildlife photos.
Jennifer B
Posted on:
Discover Cuba
Don't do Cuba any other way!
This workshop was my first trip with Colby and my first time to Cuba. I didn't know what to expect but I all I had hoped for was a great trip and I was BLOWN AWAY at every turn! Colby is not only an amazing photographer but a fabulous teacher, trip planner, humanitarian, comedian, etc… I could go on and on. Not only was everything planned to a T and taken care of for us but he always works with a local(…)
Other Workshops Worth Checking Out!
February 24th - March 2nd, 2024

Join us this February as we explore this impressive series of Islands located above the Arctic Circle. While we will work hard to get you in the right spot for both sunrise and sunset, with over half the day steeped in darkness, we will make sure to chase any and all Aurora activity that presents itself throughout our time in the Lofoten Islands.
Cancellation & Refund Policy
No one wants to miss out on a trip of a life time…but things do happen. In those situations, the following applies…
All cancellations are subject to a minimum of a $150 service charge. In addition, if you cancel and your spot is otherwise filled, you will be refunded the full amount you have paid (minus the $150 service charge). However if you cancel and your spot is not filled, the following fee schedule applies: