When it comes to managing our Social Media Accounts, I think we can all agree that there is never enough time in the day, even during the 2020 Pandemic, to find the right images, captions, text or articles to share with our audiences on all of the various platforms we use. This is why so many content creators, myself included, end up scheduling out much of what they share online. When it comes to Instagram, you have really only had a few options at your disposal from services such as Later, Hootsuit or Buffer. But there was always a catch. Not only did you need to make sure your Instagram profile was a Business Account attached to a Facebook Business Page, but some of these services required you to have paid accounts with those services as well. On top of that, you were very limited in what you could share on Instagram. Early on you couldn't share videos to IG, groups of images in a single post, and oftentimes vertical images were rejected by the IG API with most of these services.
Luckily Facebook has finally come up with a much better solution, at least for those that still maintain a Facebook Account. It is called the Facebook Creator Studio.
What Is Facebook Creator Studio?
Over the years Facebook has continued to push out a series of apps and web services that were meant to give you additional control and access to your FB profiles, Pages, Groups, Messages, and Analytics. Some of these have worked out well and others were a bit of a mess, but Facebook continued to churn out new options for us users it what seems like a spaghetti test of sorts, finally landing on the Facebook Creator Studio that we are talking about today. So what is it? Well everything I mentioned above and a bit more.
It is here that you can not only post images, text, stories, videos or live broadcasts to any of the FB pages you run but also respond to messages, check out insights/analytics, run/create ads, and of course…schedule posts. Consider it more of a one-stop-shop for all of your Facebook page/business account needs. Now while all this sounds great, you might be like me and have mostly given up on Facebook Pages over the years. While my own page, Colby Brown Photography, has around 117k followers, the interaction on my page has been doing nothing but drop drastically over the years to the point that I rarely post over there anymore. This has forced me to not only put more emphasis on my personal FB profile (which you can't control from here) but also Instagram. Not only do IG posts get more interactions that anything I post on Facebook, but IG Stories and Videos do as well. This is why so many photographers and content creators still maintain an Instagram account even though we have somewhat abandoned FB pages long ago.
How Do I Get Everything Setup Correctly for IG?
To make things simple for you, I have put together this step by step guide for getting your Facebook Creator Account setup and connected with Instagram.
If you have any questions, please leave them in the comment below…
Head to the Creator Studio for Facebook webpage and login to your main FB account that has Admin rights to a Facebook page. It is important to note that this should be done from a Desktop or Laptop and not your mobile device. While there is a Creator Studio App for both Android & IOS, you can't schedule IG posts through those applications at this time.
Once you have logged into your main Facebook account, you should see the home screen of the Facebook Creator Studio. For now you can ignore everything you here and instead make sure you click on the Instagram logo found at the very top of the window. From there, you can click on the "Connect Your Account" button to properly login to your Instagram Account. Please note that you need to first make sure that you Instagram account is either a Business Account or a Creator Account. You have to have one of those two IG account types in order to schedule any posts. My IG account is already a Creator Account, but FB might give you the option to change your IG account on the spot if need.
That's it. Once you have completed those steps, you should be all set. On your new home screen, you should see a list of all of your latest posts, IG Stories, and Videos that you have shared. If you look closely, you probably will not see any insights for any IG Stories that have already been archived and that are not currently live, but moving forward, it should hold all of this information for you.
How Do I Start Scheduling Posts To Instagram?
So now that you have everything set up and your Instagram account is connected to Creator Studio by Facebook, we can start to schedule posts on your IG account.
Let's walk through this one step at a time..
Let's start off by finding the "Create Post" drop-down button in the upper left-hand corner of your desktop browser. Click on it and you will find two options: "Instagram Feed" or "IGTV". As of right now, you can't schedule IG Stories as they are typically meant to be shared in real-time, but this might change down the line. Select "Instagram Feed" to create a new scheduled post for IG.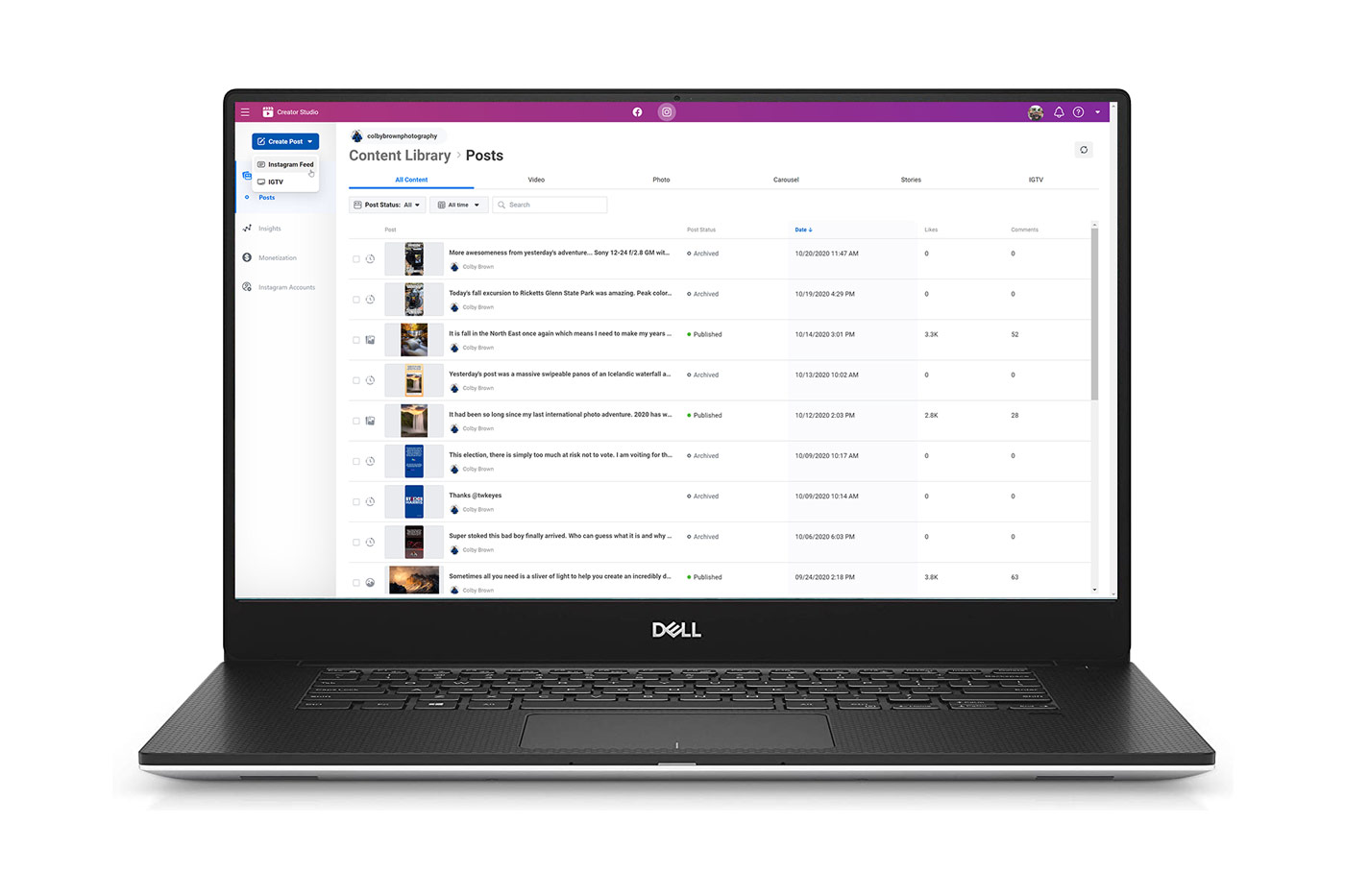 Now you get to start to create the post in question. Under "Your Post" you can add the caption or text for the image you are sharing. This is also where you will manually add hashtags as well. Below that you can use the "Add Location" section to tag a destination fairly easily. In the next step we will talk in more detail about adding photos and videos, but before we get there, you can also choose to Post to Facebook option to make a duplicate post on your connected FB page at the same time this post goes lives. Lastly on the right side of the browser, you will find the advanced settings section where you can choose to "turn off comments", tag any Branded Partners for posts/content you are creating from other companies and add "Alt Text" to any images you have chosen to upload. Alt text is added automatically if you leave this section blank, but if you want to be specific, you can fill this information in to help Instagram show your post/images to people with visual impairments.
Now let's talk about adding photos or videos to your post. When you click on the "+ Add Content" link, you have two options: "From File Upload" or "From Facebook Page". In this case, let's select a few images from "a new file". For this example, I have selected 3 vertical images that I took in Africa last year that are not currently cropped for IG's 4:5 vertical ratio. At the bottom of each image, you will find the cropping tool (just to the left of the Trash Can icon). When you click on that a new window will pop up giving you clear options to select a Square Crop, Landscape Crop (horizontal), or Vertical crop with your images. I recommend that you crop all of the images in your post that have the same crop dimensions, such as all vertical crops or all in the landscape orientation if you are sharing multiple images. Once you are done, simply hit the "Save" button in the lower right-hand corner and repeat for the other images.
Once your post is completely ready to go, it is time to schedule it. To do this, simply click on the downward arrow in the bottom right-hand corner of your screen and select "Schedule". Input the date and time you have in mind and then hit the blue "Schedule" button just below it and you are good to go!
Limitations of Using Creator Studio with Instagram
No scheduling service for any social media platform is perfect, so what are the limitations of trying to post to Instagram using Facebook's Creator Studio?
You can't edit scheduled or existing posts just yet
You can't publish IG Stories
Once you select a time to publish an IG post, it can't be altered within the Creator Studio
Now you should be set up and ready to start scheduling your own IG posts with ease. While Facebook and even Instagram might not be as widely appreciated as they once were for photographers, the reality is that IG still has a massive photography audience that can't easily be ignored for much of the industry. While you did have tools to help you try to schedule your posts in the past, many people, myself included, were frustrated with broken APIs, IG accounts that kept disconnecting from these services, and of course the limitations of what kind of content you could schedule in the first place. With the Creator Studio, Facebook seems to be trying to rectify many of those shortcomings. So far I am very happy with my experience using this service and I look forward to some or all of this functionality eventually coming to our mobile phones, be it via the official Instagram App or the mobile version of Facebook's Creator Studio.
If you have any questions, please leave them in the comments below!
Instagram Fall 2020 Resolution Guide
When it comes to uploading images or videos to Instagram, many photographers and creatives want to make sure their content looks amazing. The problem is that too many people upload both images and videos at a lower resolution than Instagram supports, causing the network to rescale your content in the process. The end results usually look pretty bad. So to help you avoid those issues, here are Facebook's current resolution guidelines for the different ways you can post to Instagram these days. I almost always upload at resolutions larger than what is listed here, so think of these guidelines as the bare minimum.