When it comes to finding the perfect laptop as a photographer, we are often torn between the choice of getting something fast and powerful or lightweight and portable. While thin and light machines were typically underpowered but provided good battery life, the more powerful laptops were thicker and heavier, often weighing between two or threes times as much. But what happens if you want something that is both powerful and lightweight? Something that can handle those large MP images but that doesn't weigh over 4lbs in the process? With the launch of the new 2018 XPS 13 (9370), Dell feels they have finally found that perfect balance.
While I have been a big fan of the popular Dell XPS 15 (9560) that I reviewed last year, I have been keeping my eye on the smaller and lighter XPS 13 series as well. With the brand new Intel 8th generation Quad Core CPUs hitting the market, I felt it was the perfect time to give the brand new XPS 13 a trial run. Fortunately, Dell was able to send me one before it was released so that I could take with me to Cuba, Iceland, and Norway while I taught a series of Photo Workshops. So how did it do? Let's find out!
Specs
Like most laptops, the Dell XPS 13 (9370) comes in a variety of different customizable options at different price points. The one I tested was just about the highest end model you could buy with the following specs…
CPU – Intel 8th Generation Kaby Lake i7-8550U Processor (8M Cache, up to 4ghz)
Memory – 16GB LPDDR3 2133MHz
Hard Drive – 512GB PCIe Solid State Drive
Video Card – Intel® UHD Graphics 620
Display – 13.3" 4K Ultra HD (3840 x 2160) InfinityEdge touch display
Wireless – Killer 1435 802.11ac 2×2 and Bluetooth
Ports – USB – C 3.1 w/ PowerShare DC-In & Displayport, (2) Thunderbolt 3 w/ Powershare, MicroSD slot, Headphone jack
Dimensions – 0.46″ x 11.9″ x 7.8″ (11.6mm x 302mm x 199mm)
Weight – 2.68 lbs (1.21 kg)
Build Quality & Design
While many PC manufacturers have tried to mimic the look of Apple's MacBook lineup, Dell has continued to go its own route with its XPS series that I feel gives them their own distinctive look. Those familiar with the XPS series should feel right at home with beautifully built 9370, but there are a number of new features and welcomed changes worth noting.
First and foremost, you now not only have the ability to purchase the same platinum silver with black carbon fiber look of the past XPS laptops but also a brand new Rose Gold with Alpine White woven glass fiber version as well ($50 extra). I was sent both versions to experiment with and while I still like the look of the traditional silver and black design, there is something special about the Rose Gold version that causes it to stand out in my opinion. Unlike the smooth feel of the carbon fiber version, you can literally feel the texture of the woven Alpine White glass fiber as you run your fingers over the interior of the laptop, which feels pretty awesome. Additionally, the nearly all-white interior appears to stay clean of fingerprints and oil from your hand that can be visible in the in the platinum silver version.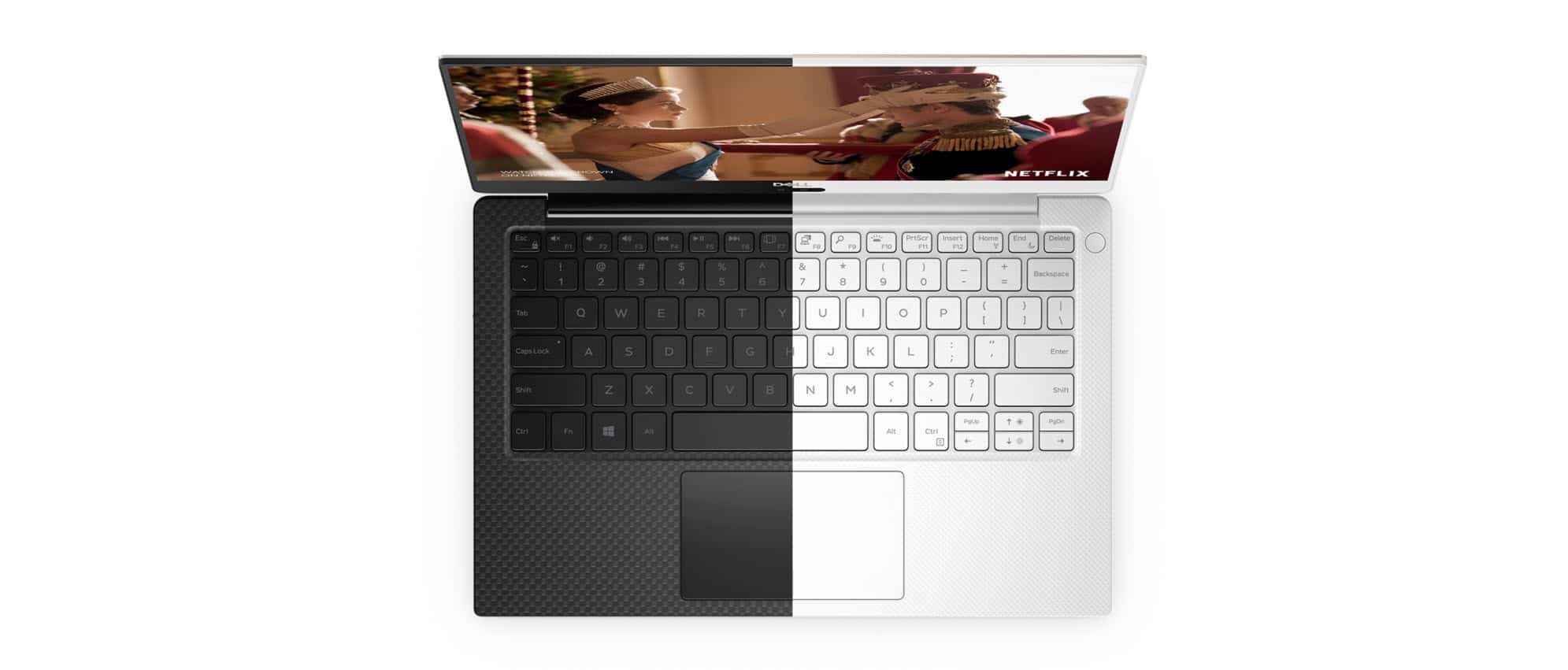 You will also find a fingerprint reader built into the power button that you can use to login to the machine as well as the webcam, which finally has "Windows Hello" support, giving you even more ways to keep your laptop secure while quickly and easily unlocking it when needed. However, for those hoping the placement of the webcam would be improved, you will probably be both happy and sad with the 9370. While it is now placed in the middle of the screen rather than angled from the left, it is still located at the bottom of the display which makes for awkward angles when using the webcam. This is of course because of the gorgeous edge to edge Infinity Display known to the XPS lineup that I will talk about in-depth in its own section of this review.
The Keyboard feels great to the touch, especially for a thin 13″ laptop. While you don't get super deep key travel, it feels much deeper than I expected. I wrote the vast majority of this review on XPS 9370 and enjoyed the typing process. While I think Apple is still the leader when it comes to trackpads, the one found here works well and feels good to the touch. I liked the oversized trackpad approach that Apple has begun to run with, so maybe that will be brought over in future generations to the XPS line.
New to the 9370 is the port selection. While you are missing the standard USB-A port on this laptop, you are given a USB Type C (3.1) port that doubles for charging the device as well as two USB C/Thunderbolt 3 ports (one on each side). Fortunately, both of these TB3 ports include four-lane PCI connections which means you can plug this laptop into an external GPU, which would make this laptop a much more viable option for portable gaming that it is by default. You also won't find a standard SD card slot as Dell went with the questionable micro SD slot instead. Personally, this is an all or nothing thing for me. If you can't go full SD, don't bother with the micro SD slot which I imagine won't get much use (unless you have a drone).
Lastly, Dell has taken great strides in keeping this laptop run cool, even when it is under heavy CPU loads. In a laptop this thin, it would be easy for the base to heat up, making it a painful experience to keep on your lap if you aren't sitting at a desk. To do this Dell opted to make the 9370 the first laptop to use GORE Thermal Insulation along with dual fans and heat pipes to take the heat generated from the new and impressive Quad Core CPU and direct it out of the device. Not once did I feel this laptop warming up or getting hot to the touch!
Portability & Battery Life
One of the key reasons most photographers end up picking a 13″ laptop is because they want something small and lightweight that they can easily carry with them on the go. In this regard, the 13″ Dell XPS 9370 doesn't disappoint!
When you first pick up this laptop you will have a hard time deciding what is more impressive, how thin the laptop is…or how light it feels. I don't know if I was simply too used to the Dell XPS 15 that I normally use, but I was blown away but just how light this laptop felt in my hands. According to Dell, it weighs just 2.68 lbs (for the 4k Touch Screen Version), making it one of the most powerful lightweight machines I have ever used, thanks to the quad-core Kaby Lake i7 CPU. It is this new technology that has allowed Dell to not only create such a thin and lightweight machine but one that has pretty solid battery life as well.
While other reviewers have been able to get close to 13 hrs of battery life with the 1080p version of this laptop, the best I have got on my 4k Touch version is around 7-8 hrs. This mostly consists of watching movies, doing light editing and web surfing. If you are really going to dive into processing your images and you crank the Power Mode to "Best Performance", I can get around 5 hrs of battery life when using programs like Lightroom, Photoshop, Capture One or On1 Photo RAW extensively. This is partly because Dell opted to go with a smaller battery than last years model to keep the thinner and lighter trend. Personally, I wouldn't mind something a touch heavier that gave me a few more hours of battery life, but maybe that is just me.
When you click on the battery icon in the lower right-hand corner of your screen, a small window pops up with a slider that lets you control your laptops power mode, allowing you to balance power with battery life depending on your task at hand.
The Display
Easily one of my favorite features of this laptop is the 4k Wide Gamut touch display that Dell likes to call "Infinity Edge". This is because the screen is almost bezel-less in design, going almost corner to corner. In fact, Dell was able to remove 23% of the bezels from last years model which was already impressive. Additionally, Dell managed to create an incredibly bright display with this laptop, rated at around 415 nits. To compare, most other laptops in this class usually fall around 275 nits.
Now as a photographer, the display of any device is always one of the most crucial. We want our images to look the best, but if we don't know if we are looking at accurate colors or contrast, it can be near impossible to accurately process/edit an image. With the XPS 13 (9370), there is a lot to be happy about. Spec wise, the 4k version of this laptop covers 100% of the sRGB color space and a contrast ratio of 1500:1, which is more than enough for today's photographer. In addition, you get an IPS display with wide viewing angles and touch support, which I feel is a pretty under-rated feature.
While Apple users have been known to bemoan the idea of touch support in a laptop, my guess is that they have never actually used one. While this might of been true a few years ago, Windows 10 and most photo processing apps now have solid support for touch-based features. I not only use "touch" to move around windows and scroll through web pages, but I can easily scroll through my thumbnails in Lightroom, pinch to zoom into my images in Photoshop and navigate around Capture One while using sliders with ease. Personally, I can't see myself using a non-touch laptop in the future.
How Much Power Is Under The Hood?
When you compare the last generation Dell XPS 13 (9360) with this newer version (9370), there are a lot of similarities. Both are small and lightweight, both offer incredible displays and both look almost identical. So what is the biggest difference between these two laptops? The CPU!
Historically, 13″ laptops were (and still are) classified as "Ultrabooks". They were often thin and lightweight, but they were never known for their processing power. As far as I know, nearly all 13″ laptops before this year were all maxed out with dual-core processors, which made then usable, but not powerhouses. This was not only to improve battery life but because anything more powerful simply got too hot for these thin laptops to handle. This has all changed with the brand new 8th Generation Intel processors and Dell's use of GORE material we talked about earlier in this review.
Under the hood of the XPS 13 (9370) is the new Kaby Lake 8th Gen Intel i7-8550U Processor, which is the first Quad Core CPU in a Dell laptop this size. Over the course of the 2 months that I have been using this machine, I was blown away by just how easily it handled just about anything I could throw it. While having a blazing fast internal SSD and 16GBs of fast RAM do play a role in speed and performance, it is the quad-core nature of the CPU that helps the 9370 provide a fluid user experience with tasks that a dual-core CPU typically struggle with. For example, the previous Dell XPS 13 (9360) could handle editing photos, but processing intensive tasks such as using the adjustment brush in Adobe Lightroom would often be met with delays and stuttering as the computer caught up with applying the effect of your brush. This is no longer the case.
As a Sony a7R III shooter, the 42mp RAW files coming out of my camera are pretty large, hovering around 80 mbs per file. Editing these images require some serious processing power, especially if you want a fluid and seamless experience. After editing hundreds of images on the 9370, I saw zero slowdowns, stuttering or delays as I pushed my images through apps such as Adobe Lightroom, Photoshop, Capture One and On1 Photo RAW. When it comes to editing photos, this laptop is a small beast!
But what about Video? You might be surprised to hear that editing 4k videos using programs like Adobe Premiere is a non-issue. I was easily able to render and string a number of 4k clips together, including playback on those edits in 4k without any studdering or visible/audible lag. This is a pretty big deal as doing 4k video editing on an Ultrabook was not something I would wish on my enemies in the past. While I would still opt for my custom top end PC at home for serious video editing, it is nice to know I can get started on the road with the 9370 and not be subjected to a stuttering mess.
For those interesting in Gaming, this laptop is not really for you. With no discrete GPU and only an Intel 620, the 9370 will struggle to play most modern games. It works fine for something like Minecraft, but don't expect much else to run all that well.
Another nice surprise with the 9370 came in both Norway and Iceland last month when I was with my respective Photo Workshop Clients. The hotels we stayed in had a number of TV's with HDMI outlets in both 1080p and 4k displays. The XPS 9370 didn't have an issue running those displays as a second display as I edited my images. It isn't easy to push out a second 4k video output while already using a processor intensive program, but again I was pretty impressed. In fact, I had a number of clients come up to me after the photo editing session surprised the small XPS 13 could handle everything I was showing them.
If you are into Benchmarks, I am a big fan of UserBechmark which allows you to easily download the benchmark software from the website and quickly test your computer while comparing it to the millions of other people that have tested their own laptops and desktops. The XPS 9370 performed very well in nearly all categories besides Graphics/Gaming. It was highly rated for the new Kaby Lake 8th Gen Intel Quad Core Processor (81%), given an exceptional score for its SSD drive (143%) and was a solid performer with the 16GB of RAM (65%).
What Is Dell Cinema?
At the Consumer Electronics Show (CES) in Vegas this January, Dell announced their new focus on content consumption that they called "Dell Cinema". The premise is fairly straightforward. They want to be able to provide the best viewing, listening, and streaming experience of any laptop and have done so via a mixture of hardware and software solutions.
The core tenents of Dell Cinema is broken up into three distinct elements that you can find in the XPS 13 9370:
Cinema Color
With HDR quickly becoming the next trend, Dell is trying to push the boundaries of what it can do with what it calls "Cinema Color". By engineering top quality display panels and mixing that with both hardware and software, they have managed to find a happy medium between HDR certified displays and HDR-like display features on displays that aren't technically HDR 10 certified.
By doing this they appear to be able to deliver deeper blacks, brighter highlights and more vivid colors across their displays, including the 4k panel found in the 9370. HERE is a video with more info.
Cinema Stream
Because more and more people are streaming content to their laptops, Dell wanted to make sure your music, movies, TV Shows, and even games always offer the most fluid and buffer free streaming experience possible. They have worked closely with Killer Wireless (who supplies their wireless chips) to help prioritize your streaming needs when you need it.
If you are watching a show on Netflix for example, your Dell XPS 13 (9370) will prioritize that feed over everything else happening on your laptop, making sure it gets the resources it needs. HERE is a video for more info.
Cinema Sound
The XPS 9370 uses Waves MaxxAudio® Pro to help amplify volume and clarity with a variety of tones. While Dell touts that this feature provides "studio-quality sound", I wouldn't go that far with this specific laptop. It is certainly loud and does sound pretty great for an ultrabook, but things aren't as smooth or rich when it comes to deeper mid tones or base. Bottom line is that I am happy but not blown away by the sound.
Dell Mobile Connect
One of the surprise announcements that came out of CES 2018 in Las Vegas this year was Dell's Mobile Connect software that is now apart of just about all Dell Laptops moving forward. Through this software, you have an incredibly easy way to keep track of everything happening on my mobile phone (IOS or Android) while you are using a Dell Laptop such as the XPS 9370. How does it work?
After installing the Dell Mobile Connect software on your phone via the Android or Apple Store and opening it up, you simply open the Dell Mobile Connect software that comes preloaded on your laptop and pair your phone with your computer. Once that happens, you can answer calls, texts, receive notifications and even mirror your phone's screen (Android only) right from your laptop. The idea is fairly simple, allow you to have access to anything happening on your phone while you are in the middle of using your laptop without having to break away to respond or engage directly with your mobile device.
In my experience, it works pretty flawlessly. I have been able to swipe away notifications, answer calls from my wife and even send out text messages when needed. I can even open up my Instagram app on my phone from the Dell Mobile Connect software and use it as if I was holding my phone in my hands. Currently, there is no way to send a file from my computer to my phone via this process, but I am hoping that functionality gets baked in eventually.
What About Customer Support?
When it comes to product & customer support I feel that most photographers would probably concede that Apple has figured out a way to really do it right. If you have an issue, you make an appointment at the Apple store, bring it in and in return, Apple is known for going above and beyond to make things right in most cases. This hasn't always been the story when it came to PC manufacturers and many of them have come to realize that over the years.
When it comes Dell support you have three different options…
Standard Support
Free with any laptop purchase, you automatically get Dell's Standard Support. This comes with a 1 Year Limited Warranty on product defects as well as their paid Mail-in Service if you need to send your device in to get repaired. It is important to note that the turn around time for this service is often 14 days.
Premium Support
For an additional fee, you can upgrade to Dell's Premium Support when you purchase your laptop. Here you get everything listed above plus a lot more. First, you can reach out to Dell 24×7 for any hardware and software support that extends beyond just the device. This includes troubleshooting Windows, Microsoft products/services and more). Additionally, you get International support to help you while you travel, as well as Dell's Support Assist, which helps you diagnose issues before they become problems.
However, the most impressive aspect of Premium Support is what they call "Onsite support and repair". Unlike Apple Care that forces you to find an Apple Store, Dell will actually send a technician to your house to repair your device onsite. within 1-2 business days. I was able to see this first hand with a previous Dell XPS laptop when I encountered CPU fan failure. I was contacted within 24hrs, set an appointment time and then watched as the technician visited my home in a remote part of Pennsylvania and began to take apart my laptop, replacing my CPU fan on my kitchen table in less than 30 minutes. Needless to say…I was incredibly impressed!
Premium Support Plus
When it comes to the premier level of support, Dell offers "Premium Support Plus". This covers everything that has been listed so far and a considerable amount more!
Included in this package is the automatic removal of viruses and malware from your system if you were to get infected. Additionally, Dell will continue to help you automatically optimize your laptop so that it is always running at peak performance while also helping you set up backups, parental controls, and other more complex system services.
However, the most important element of Premium Support Pro is that it is the only level of Support that fully covers accidental damage to your laptop. Spill water or coffee on your XPS? Accidentally drop it off your desk? Crack your screen while in transit through an airport? Not a problem. All of the above is covered under this extended warranty package.
Pricing & Costs
So how much do these extended service plans costs? Here is a screenshot I took from the Dell website when attempting to purchase the XPS 13 (9370). To give you a comparison, Apple Care for a similar laptop would cost $269 for 3 years and which does include accidental damage, but no onsite repairs.
XPS 13 (9370) Accessories Worth Considering
As with any laptop, there are often a number of accessories that can make your life a little easier and more efficient. Here are some of my favorites…
Aukey USB-C/USB 3.0 Adapter
If you are looking for a small adapter that allows you to easily use a USB 3.0 device with your XPS 9370, look no further than the Aukey USB-C/USB 3.0 adapter. It is small, affordable and works great. I keep a couple in my messenger bag just in case.
Aukey USB-C Hub
If you need more then a single USB C adapter, an alternative is the Aukey USB-C Hub. It comes with 3 USB 3.0 A ports along with a full SD card slot to help you back up your images. Unlike previous generations, the 9370 only has a micro SD card slot built in, so you will need an SD card reader regardless.
USB-C/HDMI Cord
If you want to hook this XPS 13 up to an external display, you are going to need a USB-C to HDMI cord to get the job done. However, since the 9370 can handle 4k video output, you can't use just any cord. THIS is the cord I ended up using that has worked great for me!
USB-C/HDMI Adapter
If you plan on using the XPS 13 and your TV, Monitor or Projector already has an HDMI ready cable, you can simply purchase THESE Thunderbolt 3 to HDMI adapters.
Best Portable HD
While you can customize your XPS 9370 to have up to 1TB of fast SSD storage space, you might need more space. With so many TB 3 ports, you could instead opt for a super fast & portable SSD hard drive(s) to help you with your storage needs on the road. I use G-Technology G-Drive Mobile R-Series 2TB SSD drives. They are ultra portable, super fast and very dependable.
Dell USB-C Power brick for External Charging
Although you can get pretty solid battery life out of the Dell XPS 13 9370, you might want a bit power when you are traveling and away from an easily accessible power outlet. Luckily you power your 9370 via USB, but it requires a much higher wattage than what you typically find with more consumer-based power bricks such as those from Anker. Dell offers a Notebook Power Bank Plus (65Wh) USB-C | PW7018LC that not only pushes out enough power to easily charge the 9370, but gives you an additional 10W USB A port to charge another device at the same time.
X-Rite i1 Display Pro
While the display on the 9370 is gorgeous and color accurate for both sRGB and Adobe1998 color spectrums right out of the box, most professional photographers prefer to stay on top of Color Management with their devices. The truth is that over time all displays can move slightly less accurate over time, so having a proper color calibrator will help you make sure you are always looking at the most accurate display possible.
For this, I use the X-Rite i1 Display Pro for all my laptops and desktops. If you buy one, you can simply download the calibration software on each device you wish to calibrate while using the same i1 Display Pro.
Pros
An incredibly powerful laptop. 15″ laptop power in a lighter and thinner 13″ body
A gorgeous 4k Wide Gamut Touch Display
A generous number of USB Type C ports including (2) Thunderbolt 3 ports w/ 4 lane PCI Connections
You can power the laptop via USB C
Stays Pretty Cool to the Touch. Never gets HOT!
A keyboard and trackpad that are a pleasure to use
Windows Hello support via Finger-Print or Webcam
The inclusion of Dell Mobile Connect
Dell Premium Support rivals Apple Care and exceeds it in many regards
Cons
The Platinum Silver/Black Carbon Fiber version still attracts fingerprints
Not built for Gaming with no discrete GPU
The battery is slightly smaller than last years model
Final Thoughts
For years photographers like myself have been searching for that utopian laptop. The one that can handle our heavy workloads while also not breaking our backs…and our bank accounts. With the XPS 13 9370, I feel that Dell has created one of the best laptops I have ever used. While it isn't perfect, it checks nearly every box I look for when it comes to choosing a laptop. It is super lightweight and thin which makes it highly portable and easy to carry around. It has a gorgeous 4k wide gamut touch display that makes viewing and editing my images/videos a pleasurable experience. It has at least 16GB of RAM, a blazing fast SSD, and solid battery life. If you are coming from an Apple laptop, you will also be pretty stoked to hear that Dell's Premium Support rivals if not beats Apple's famed Apple Care. To top things off, the new Kaby Lake 8th Generation i7 CPU has done nothing but exceed my expectations since I started using this laptop. Nearly everything I threw at it, it handled like a champ!
So since I said it isn't perfect, what is not to like? Not a much to be honest. Personally, I would be fine with a slightly heavier (or thicker) 9370 if that meant they could fit in a slightly larger battery and therefore provide a few more hours of battery life. The silver/black Carbon Fiber design still attracts fingerprints and oil from your hands just like last years models, but the new Rose Gold/White version is pretty killer and always looks fingerprint free. I love the feel of the texture of the new woven white glass on the interior of that model and hope it comes to all models next year. Lastly, while the 4k touch display is amazing, some photographers will simply prefer editing on a larger display. That along with pen stylus support is why I also have my eye on the soon to be released Dell XPS 15 2:1. However until then, I don't think the XPS 13 9370 will be leaving my bag anytime soon.
Simply put, if you want a sleek looking, lightweight and very powerful laptop to take with you on the road, the Dell XPS 13 9370 should be in your gear bag!
Full Disclosure
While Dell didn't pay me or ask me to write a review, they did provide me with the XPS 13 (9370) that I used to base this review off of. All of my thoughts and opinions listed here are my own. When it comes to my name and my brand, your trust is both extremely important and valuable to me. In this day and age, anything I write here can easily be verified through your own Google search to check out what other reviewers have to say. Any reviewer that is dissuaded from telling the truth to get free gear shouldn't be reviewing products in the first place 🙂
Questions + Upcoming Giveaway
If you have any questions about this laptop, please leave them in the comments below. Additionally, I am working on securing a second XPS 13 9370…so that I can give one away to one of you! The giveaway would be hosted on Instagram and details should be coming later this week!